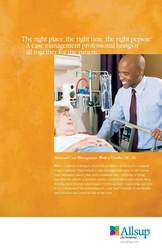 Belleville, Ill. (Vocus) September 29, 2010
Case managers have a crucial role in helping patients make the transition among different types of healthcare settings, according to the American Case Management Association, which will observe National Case Management Week on Oct. 10-16, 2010. Organizations, including Allsup, a nationwide provider of Social Security disability representation and Medicare plan selection services, are raising awareness about the valuable contributions by case managers working in hospitals and other healthcare settings.
Individual patients may receive care in trauma, acute, sub-acute, rehabilitation, home and long-term care environments. For case managers, the focus is helping patients and their families move through and adjust to these environments, and working to improve patient outcomes and reduce preventable hospital readmissions.
In conjunction with this year's National Hospital Case Management Week theme, "Managing Health Care Transitions," ACMA not only recognizes the importance of the case manager's role, but also the timeliness of this topic. Currently, national standards for managing care transitions do not guide all healthcare professionals, and ACMA is attempting, through initiatives such as the Transitions of Care Leadership Conference, Nov. 10-11, 2010, to address those voids in education by building common understanding and national commitment.
The conference topics illustrate some of the key issues facing case managers in today's healthcare environment, including transfers of care between nursing homes and emergency departments, teamwork between healthcare professionals and family caregivers, and providing patient-centered care during times of transition.
Case managers are clinically experienced nurses and social workers who work to ensure the highest quality of care is delivered. Often, case management professionals initiate process improvements that help hospitals adapt to the constantly changing healthcare environment.
National Case Management Week, observed Oct. 10-16, allows communities to recognize the value of case managers and their contributions to patient care and well-being.
Allsup is observing National Case Management Week with free posters available to hospital-based case managers, clinics and other community groups by calling Karen Hercules-Doerr at (800) 854-1418, ext. 5770.
ACMA contact:
American Case Management Association
Emily Wilson
(501) 907-2262
ewilson(at)acmaweb(dot)org
http://www.acmaweb.org
Free posters:
Allsup
Karen Hercules-Doerr
(800) 854-1418, ext. 5770
k(dot)hercules-doerr(at)allsupinc(dot)com
http://www.allsupcares.com
###