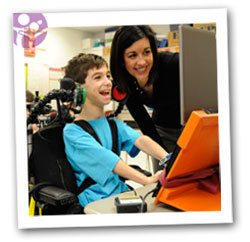 Being tech-savvy in business is considered a strength, yet in some schools assistive technologies are perceived as tools that give an unfair advantage to students.
Round Lake, IL (PRWEB) September 22, 2010
Don Johnston, software developer and advocate for children with special needs, released a new video today titled, The Case Against Assistive Technology.
The Case Against AT addresses the history of resistance to assistive technology in schools and compels school leaders to consider AT accommodations not just for students with disabilities in a resource room, but to seamlessly integrate technology accommodations in everyday classrooms to benefit students who need more structured learning supports.
Ben Johnston, (the founder's son) developed the four-minute video as a presentation resource to help practitioners build a case for 'why' assistive technology tools should be used throughout the learning day. Only a few percent of students with disabilities ever get to use technology beyond a simple word processor. This video comes at a time when administrators are looking for new ways to create 21st century digital learning environments. It follows a format similar to the 2007 landmark video, 'Did You Know/Shift Happens', by Karl Fisch, a high school IT director who brought awareness to global changes affecting education in the world.
"It's hard to imagine not using technology every day in the real world," said Ben Johnston, for the family-owned special education company now celebrating 30 years. "Being tech-savvy in business is considered a strength, yet in some schools assistive technologies are perceived as tools that give an unfair advantage to students. It's disheartening when non-verbal students struggle to communicate despite the advances in augmentative devices. For students with dysgraphia, a writing disorder, a simple word prediction writing tool can make all the difference to demonstrate what they know. I hope my video plays at least a minor role to help people think differently about the uses and benefits of these tools."
Some U.S. schools are now expanding their use of assistive technologies to accommodate students across the curriculum. In 2010, educators in Fairfax County, VA used AT in summer writing camps and for a school-wide social studies project involving all 5th graders, including students in general education, ESOL students and students with disabilities. Students were expected to think critically to answer questions about how ancient civilizations affect the world today in relationship to art, government and geography. Teachers made the electronic textbook accessible with Read:OutLoud, an assistive technology software that reads eBooks and the Internet. Students navigated the digital content to read important chapters, hear the text read aloud, manage assignments and study for exams. Fairfax purchased unlimited licenses of the text reader so that more students could use the software on any computer at school and at home.
"These assistive technology tools were a good use of ARRA funds to improve reading comprehension skills and to deliver accessible instruction materials," said Lisa Givens, AT Specialist for Fairfax County VA Public Schools. "Read:OutLoud enabled teachers to individualize assignments and provide reading accommodations for students who struggle with curriculum that may be difficult to comprehend."
The Johnston family encourages educators, parents and AT advocates to share the video with colleagues and to consider alternative instruction methods to increase student achievement. Viewers can write a video review online and join a blog discussion to share public opinion. In the coming weeks, guest bloggers and national AT experts will also write responses to The Case Against Assistive Technology.
"Ben's video asks us to examine assumptions that may hold us back from implementing new ways to deliver instruction," said Dr. Brian Friedlander, a nationally-recognized AT expert. "I'll use his video to open new dialogue in my workshops. Hopefully these discussions will have far-reaching opportunities for students beyond school."
Resource Links:
View The Case Against AT on the Don Johnston website, YouTube and Teacher Tube.
(http://www.donjohnston.com/thecase )
Join a blog discussion about the video on Don's Blog.
(http://donjohnston.blogspot.com/2010/09/compelling-video-case-against-assistive.html )
Schools Making the Grade - Effective use and district-wide AT implementation.
(http://www.donjohnston.com/educators/schools_news/index.html )
Webinar Series - Assistive Technology is one of three key spending recommendations for ARRA stimulus funds. (American Recovery and Reinvestment Act)
(http://www.donjohnston.com/arra )
Read:OutLoud 6, the Accessible Text Reader, for K-12 and postsecondary students.
(http://www.donjohnston.com/readoutloud )
Scientific Research –Assistive technology works for diverse learners.
(http://www.donjohnston.com/products/read_outloud/research.html )
About Don Johnston Incorporated
Don Johnston develops accessible reading and writing technologies to support K-12 and postsecondary students with cognitive, physical, and learning disabilities. Since 1980, the company has partnered with literacy experts, AT specialists, SLPs, OTs, special education teachers, university researchers and DSS coordinators to improve access to learning and to increase writing independence. Students and individuals with dyslexia, autism, dysgraphia, down-syndrome and diverse learning challenges will benefit from software and hardware devices to accommodate them in education and workforce programs.
###