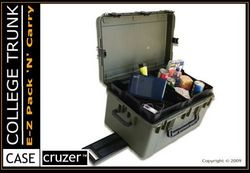 (PRWEB) August 18, 2009
The transition from summer haze to school daze is a breeze when packing, locking and rolling to campus with the new College Trunk. Everything from textbooks to tank tops, and iPods to ID cards fit snugly in this mobile storage unit. And some private space in public places like dorms, frat houses and sororities offers peace of mind for anyone engaged in the frenzied pursuit of higher education.
The College Trunk by CaseCruzer is equipped with three secure storage areas, making it far more flexible than those heavy, clunky dorm trunks of the past. The deep and wide base is for all the bulky things campus life demands: text books, college supplies, laptops, seasonal clothing, extra bedding, gaming consoles and athletic equipment.
The two storage trays that sit on top of the base are ideal for smaller, personal and school items, such as DVDs, graphing calculators, thumb drives, voice recorders, photographs, magazines, reading glasses, letters from home, vital documents, non-perishable snacks, medicine and money.
After arriving on campus, college trunks are a convenient way to make the mad dash to and fro for holidays and spring vacations. Stainless steel ball-bearing wheels put a nice spin on airport and corridor maneuvers. And two ergonomic side-folding cushion-grip handles and an extendable handle make this rugged carrying case versatile and cooperative when lifting or sprinting to catch a plane or train.
In transit or in for the night, the anti-theft trunk is fitted with dual flanges that can be secured with padlocks; protection is enhanced by the molded-in hinge. Yet rapid release latches make access to the inside of the College Trunk swift and easy.
The trunk is compact for storage in tight rooms. Exterior dimensions are 31.62" L x 20.25" W x 15.75" H. The spacious interior is 4.31 cubic feet. The mobile case with two storage trays weighs only 27 lbs. when empty.
Like all carrying cases, this storage companion gets extra credit for its unique, durable design: a water-tight seal guarantees 100 percent protection from moisture; a pressure equalization valve keeps our dust and adjusts to air travel. It is also impervious to UV, solvents and corrosion. For high-flyers, the trunk is rated ATA 300. In short, it is built to survive travel, heartbreak, loneliness, triumph and even grad school. And unlike the job market, each carrying case is backed by an unconditional lifetime warranty.
From lazy-hazy to campus crazy, pack, lock and roll with the new College Trunk. So, when you see the name CaseCruzer, think special honors.
The CaseCruzer network of companies provides the community with the most comprehensive packaging solutions available on reusable carrying cases for applications such as Communications, Photography, Computers, Electronics, Medical, Transportation and other industrial shipping and carrying case uses. For more info about the new case, visit http://www.casecruzer.com; call 800-440-9925 in the U.S. or 909-613-1999 internationally; fax 909-465-5598; or write to CaseCruzer at 4665 State Street, Montclair, CA 91763
###