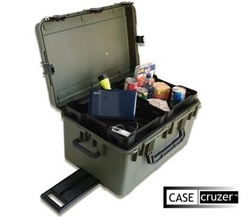 Montclair, CA (PRWEB) September 1, 2009
Civilians must prepare for the unthinkable, whether it be earthquakes, fires, floods, hurricanes--anything that Mother Nature sends through. When preparing for disasters, families and businesses will be thankful to have the new Emergency Footlocker by CaseCruzer handy.
The Emergency Footlocker can take on just about any natural disaster. After surviving a catastrophic event, the last thing a person wants to worry about are valuables getting lost or damaged. CaseCruzer has you covered. Those preparing for disasters can place essentials such as an emergency kit, flashlights, two-way radios, money, keys, prescriptions and other items that need to be easily accessible in the upper area of the case. Storing these items away in an easy to carry container such as a footlocker provides security for families since they will be prepared for nearly any emergency.
Sturdy wheels and an extendable handle allow victims to easily evacuate with their Emergency Footlocker when the time comes. The footlocker also comes with side folding handles for easy handling.
"When it comes to survival, non-perishable food, water containers, and blankets are usually at the top of the list for disaster victims. The Emergency Footlocker can accommodate for these indispensable items. CaseCruzer developed this footlocker as a solution for households, businesses, FEMA and other governmental emergency management agencies so that they can better prepare for the unexpected," says Tatiana Briceno, marketing director at CaseCruzer.
Bulky survival items fit best in the spacious storage area located at the base of the Emergency Footlocker. Those who are unprepared may be tempted to loot, but the Emergency Footlocker is loot-free with its pad lockable system so that disaster essentials and valuable items do not get lost or stolen. The only concern in an emergency should be safety, not theft and looting. Jewelry and pricey possessions, money, and priceless documents can be stored away without a worry in mind.
Perhaps an overkill, but because the Emergency Footlocker is airtight and watertight, there's no need to worry about water damage caused by natural or man-made disasters. The footlocker is also dustproof and extremely buoyant. It boasts 4.31 cubic feet of storage space and weighs 27 lbs when empty. Like all CaseCruzer carrying cases, it has an unconditional lifetime guarantee.
Evacuating isn't easy, but being prepared with food, water, first-aid kits, flashlights, and radios, all packed in a sturdy case, is. When it's time for emergency preparedness, think CaseCruzer.
The CaseCruzer network of companies provides the community with the most comprehensive packaging solutions available on reusable carrying cases for applications such as Communications, Photography, Computers, Electronics, Weapons, Medical, Transportation and other industrial shipping and carrying case uses. For more info about the new case, visit http://www.casecruzer.com; call 800-882-4730 in the U.S. or 909-613-1999 internationally; fax 909-465-5598; or write to CaseCruzer at 4665 State Street, Montclair, CA 91763.
###