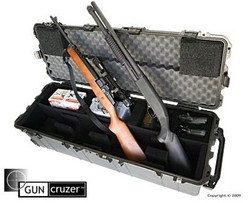 in length. The convenient case also has room for two handguns with lengths up to 9.25
Montclair, CA (PRWEB) October 27, 2009
Hauling multiple weapons into hunting grounds or a shooting club is not just clumsy, it's dangerous. Especially for those sportsmen who like to mix and match rifles and handguns. CaseCruzer says there is no need to damage or lose prized possessions while in the hunt for big game or a bull's eye. Just pack it all up in the new GunCruzer 2N2 Universal GunPod Case and wheel it to your destination.
The universal interior of the 2N2 GunPod Case by CaseCruzer, allows hunters, gun enthusiasts and sportsmen to safely store and transport two scoped rifles or shotguns that measure up to 40" in length. The convenient case also has room for two handguns with lengths up to 9.25". The 2N2 Universal GunPod Case also boasts ample storage space for all the important accessories, such as ammunition, cleaning supplies, first aid kits and bullet-proof vests. (No need to exclude safety glasses, gun saddles, hearing protection, binoculars, knives, boots and hats.)
Many popular weapons will feel at home in the GunCruzer 2N2 Universal GunPod Case. The rifle category includes perennial favorites like the M16, M4 and AR 15. Ruger Ranch Rifles, such as the Mini-14 and Mini-30, will also fit snugly in this carrying case. It is padded with Polyethylene foam in the base and egg-crate style foam in the lid. Rifles fitted with top-mounted optics and other accessories may also find a home. And the Remington 780 shotgun is a worthy passenger.
The 2N2 can also accommodate nearly all brand-name pistols, such as Colt, Sig Sauer, Smith & Wesson, Glock, H&K, XD, and STI International. Storage compartment interior dimensions for the gun case are 29.37" L x 6.37" W x 9.50" H.
Whatever mix of rifles and handguns hunters and sportsmen decide to pack, transport in any environment will be smooth and swift with Polyurethane stainless steel ball bearing wheels. The gun case is designed with four extra-deep cleats that make the case easy to stack when the weapons finally reach their destination.
Security issues are not a problem with the 2N2 GunPod because it can be battened down with pad locks. Yet easy to open double-throw latches make access to weaponry a cinch. And wherever it is located - in a hunting vehicle, camp site or shooting range - the hard shell case is easy to maneuver because it is fitted with two rugged double-wide handles.
The waterproof case is airtight and dustproof thanks to a neoprene o-ring seal. Two integrated automatic pressure equalization valves maintain the proper environment for storing and transporting rifles and handguns. Exterior dimensions are 44.16"L x 16.09"W x 14.00"H. The weight when empty is 29 lbs.
The new GunCruzer 2N2 Universal GunPod Case arrives with an unconditional lifetime guarantee. That's because CaseCruzer walks its talk. But for hunters, gun enthusiasts and sportsmen who prefer to roll through life with the best and safest weaponry solutions - think GunCruzer.
The CaseCruzer network of companies provides the community with the most comprehensive packaging solutions available on reusable carrying cases for applications such as Communications, Photography, Computers, Electronics, Weapons, Medical, Transportation and other industrial shipping and carrying case uses. For more info about the new Pelican case, visit http://www.casecruzer.com; call 800-882-4730 in the U.S. or 909-613-1999 internationally; fax 909-465-5598; or write to CaseCruzer at 4665 State Street, Montclair, CA 91763.
###