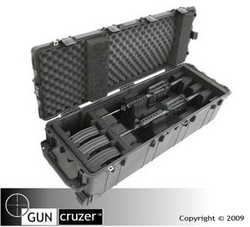 Montclair, CA (PRWEB) September 29, 2009
The need for U.S. Armed Forces to deploy anywhere in the world at lightening speed creates transport nightmares for military weaponry -- unless arms are wrapped in the new GunCruzer M4-4 Pack case. This new solution removes the shock and awe of equipment travel so that American forces can seize the day -- everyday -- in any terrain.
The crushproof GunCruzer M4-4 Pack shipping case created by CaseCruzer, protects and secures four M4 A1 carbines with RIS, collapsible stock and other rifle accessories such as ACOG optical sights (mounted on top of rail), AIM Point (mounted on rail) visible laser lights. The carrying case does not accommodate vertical handgrip, nor accessories mounted on the lower rail. But it can hold 28 magazines, seven for each weapon, and it conforms to the Department of Defense deployment requirements.
Also, military rifles are held snugly in their saddles by the closed cell Polyethylene foam that lines the base, and the convoluted egg-crate style foam in the lid. Both provide the ultimate protection against the tumbles, bumps and vibrations of battle weary travel and storage.
"Soldiers need to be ready in a minute's notice. CaseCruzer created this unique gun case solution to allow for military men and women to be able to both safeguard and quickly retrieve their battle gear when given the green light," says Tatiana Briceno, Director of Marketing at CaseCruzer.
Operational objectives at military bases worldwide will be fulfilled faster and with less effort when deploying with the mobile M4-4 Pack. Strong polyurethane wheels equipped with stainless steel bearings make loading and unloading aircraft swift and efficient. Maneuvers by personnel are also aided by two heavy-duty fold-down side handles and a rugged yet lightweight solid wall design. The extra deep cleats mean this GunCruzer carrying case can be safely stacked on aircraft or in storage areas - anywhere in the world, rain or shine.
Conduct of counter-offensive operations will improve, since all divisions can get to weaponry quickly with the standard issue easy-to-open double-throw latches. Yet securing rifles and other equipment is equally efficient because the GunCruzer M4-4 Pack is outfitted with stainless steel padlock protectors. Lock and roll - on command.
Intruders, such as water, dust and air pressure due to altitude changes are denied access by an o-ring seal and automatic pressure equalization valve. The Pelican case can withstand hostile environments in any hemisphere with temperatures ranging from -10 to 210° F. It will remain buoyant up to 267 lbs. No worries if the M4-4 Pack is wounded in battle. Every CaseCruzer rolls with an unconditional lifetime guarantee.
The exterior dimensions are 44.16"L x 16.09"W x 14.00"H. When empty, the case weighs 28 lbs. Stock color: Black.
GunCruzer. Battle ready and built to survive.
The CaseCruzer network of companies provides the community with the most comprehensive packaging solutions available on reusable carrying cases for applications such as Communications, Photography, Computers, Electronics, Weapons, Medical, Transportation and other industrial shipping and carrying case uses. For more info about the new Pelican case, visit http://www.casecruzer.com; call 800-440-9925 in the U.S. or 909-613-1999 internationally; fax 909-465-5598; or write to CaseCruzer at 4665 State Street, Montclair, CA 91763
###