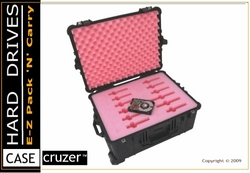 Montclair, CA (PRWEB) April 14, 2009
Digital media and IT professional that travel with delicate hard drives can now download anxiety to a trusted name in security. CaseCruzer - that dedicated foe of thieves, turbulence and the invisible torment of static electricity, announces a new carrying case dedicated to protecting essential electronic devices.
Traveling with a fleet of hard drives? Send anxiety on vacation. The new CaseCruzer Universal Hard Drive Case provides a mighty, convenient means of transportation for indispensable yet fragile hard drives. Dangers of travel are minimized by combining a hard outer shell with custom anti-static foam that protects against hard knocks and potentially damaging electrostatic discharge (ESD). The case can carry up to 24 devices.
Like all CaseCruzer design details, the pink anti-static foam is critical to the safe storage of serial ATA (SATA) hard drives and enhanced integrated drive electronics (EIDE). Standard foam used merely to cushion impact is not sufficient protection because it conducts static electricity. The harmful pulses can destroy hard drives, motherboards and other internal computer devices.
Film and television industry technicians, and all other travelers who have serial relationships with computers and servers can now breeze through their day. The Universal Hard Drive case is designed with an extendable handle and exterior mounted urethane wheels for swift, smooth movement through airports and other terrains. These rugged carrying cases can also be stacked when stored.
Double-throw latches make remote or studio access fast and easy, while the metal reinforced padlock protectors secure against theft. One front and two side folding handles make it easy to get a grip on this invulnerable road warrior. A simple cure for a crazy day.
When empty, the shipping and storage case weights only 26 lbs. Exterior dimensions are a compressed 24.81"L x 19.38"W x 13.88"H. That leaves plenty of room for interior protection. Sensitive digital files stored on hard drive will be safe from extreme temperatures ranging from -40 to 210 degrees Fahrenheit. Remote locations and inclement conditions are no match for CaseCruzer.
The Universal Hard Drive carrying case arrives with an integrated circuit of renowned traits: watertight, crushproof, dust proof and equipped with an automatic purge valve. The unconditional lifetime warranty is standard issue. The case comes in basic black only. Perfect for black-tie affairs, such as the Oscars, Emmys and other media events.
When something bad pulses from the operating environment and peripherals, this case is the best protection. Remember: whenever you need a higher frequency, always choose CaseCruzer. It sends a strong signal.
The CaseCruzer network of companies provides the community with the most comprehensive packaging solutions available on reusable carrying cases for applications such as Communications, Photography, Computers, and Electronics. For more info about the new case, visit http://www.casecruzer.com; call 800-440-9925 in the U.S. or 909-613-1999 internationally; fax 909-465-5598; or write to CaseCruzer at 4665 State Street, Montclair, CA 91763
###