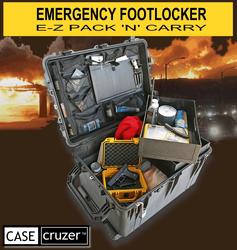 H. Interior dimensions are slightly less, with a generous lid depth of 3.50
Montclair, CA (PRWEB) December 9, 2008
Anyone who lives in a hurricane, wildfire, blizzard or earthquake zone has no excuse for being caught unprepared. When disaster strikes, don't wait for emergency personnel to bail you out. Padlock 'n' roll with the new Pelican case, custom built for men, women and children who know that survival is the best revenge against natural disaster.
The Emergency Footlocker Case by CaseCruzer gives households and businesses a mobile and professional means of emergency management. This indestructible carrying case provides safe storage for valuable personal documents and belongings, as well as non-perishable food, water containers, clothing, bedding, hygienic products - all the essentials of stayin' alive until disaster passes.
Since mobility is the key issue in any survival situation, the Emergency Footlocker Case is designed for easy handling. Two side folding handles and an extendable handle make this luggage a versatile and cooperative companion. The case also comes with stainless steel ball-bearing wheels and polyurethane tires for swift evacuation.
The CaseCruzer footlocker is equipped with three secure storage areas. Evacuees can pack necessities and personal belongings in the base of the case. The ample compartment can accommodate virtually anything that might be needed: blankets, clothing, flashlights or two-way radios, as well as prescriptions and medications.
Two trays that sit on top of the main compartment are ideal for those items that demand easy access - money, snacks, keys, emergency medical kits, and various other daily needs that are best kept within reach.
A file organizer located in the lid of the Emergency Footlocker Case is designed to store the valuable personal documents included on the emergency list of most any household or business: passports, deeds, medical and financial records, insurance policies, jewelry appraisals, tax records, military service records, birth certificates, house mortgage, property and automobile ownership papers, holdings, loan balances - in other words, any document that identifies assets and will help rebuild a personal and professional life following a disaster. Also, the lid area includes zipper pouches where important prescriptions or miscellaneous items can be stored securely.
This footlocker is also compact for convenient storage before the storm hits. Exterior dimensions are 31.50" L x 22.88" W x 18.88" H. Interior dimensions are slightly less, with a generous lid depth of 3.50" and a base depth of 13.88". The carrying case with the lid organizer and two storage trays weighs only 48 lbs. when empty.
The Emergency Footlocker Case also is designed as an anti-theft module. The durable luggage is fitted with dual flanges that can be secured with padlocks, so that jewelry and other personal possessions are safe during the chaos of evacuation.
This indestructible carrying case arrives with the Pelican standards of excellence intact: it is designed with a water-tight seal that guarantees 100 percent protection from moisture; it is dust and sand proof and meets IP66 and IP67 certifications. And although it should go without saying that each case is backed by Pelican's unconditional lifetime warranty, an occasional reminder never hurts. Especially during an emergency.
When disaster strikes and emergency preparedness is an issue, don't despair. Padlock 'n' roll with Pelican, a first-responder in the emergency and protective luggage arena. And when you see the name CaseCruzer, think Pelican Plus - another layer of comfort in a chaotic, challenging world.
CaseCruzer is a world leader in reusable carrying case solutions serving Aeronautics, Communications, Computers & Laptops, Electronics, Film & Broadcasting, Industrial, Medical, Photography & Videography, Transportation, and other markets. For more info about the new StudioCruzer case, visit http://www.casecruzer.com; call 800-440-9925 in the U.S. or 909-613-1547 internationally; fax 909-465-5598; or write to CaseCruzer at 4665 State Street, Montclair, CA 91763.
###