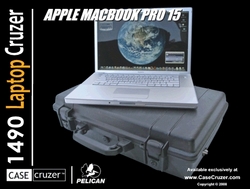 Montclair, CA (PRWEB) July 1, 2008
When traveling designers and editors use a laptop case, they aren't worried about protecting their MacBook or laptop. Their greatest fear is losing the sophisticated graphics and videos contained inside. That's why they choose the stylish new Pelican case by CaseCruzer when traveling long distances or between home and office.
The Apple 1490 laptop case is a sleek addition to the CaseCruzer reputation for innovative design. But don't be fooled by its good looks. The sole mission of this tough, do-or-die briefcase is to safely secure the creativity of web developers, graphic designers, art directors, photographers, and video editors who travel or commute with an Apple MacBook Pro 15" laptop (and 13.3" MacBook).
This Pelican case warrants trust and top honors because it comes with a custom Polyurethane foam interior. That kind of cushion and the lid's interior egg-crate-style convoluted foam (no pick and pluck) provide a dense, superior protection with a snug fit. No need to worry about annoying gaps that in other cases allow too much wiggle room for your delicate companion.
By including more foam padding, the Pelican case actually improves on the excellent universal version laptop case by CaseCruzer. As a result, it guards against the major risks of travel: shock, impact and vibration - the bane of all creative people whose genius is trusted to the sanctuary of a MacBook Pro.
This laptop case is also ideal for airline travel. Premier safety latches tightly secure your laptop. And the small handle on the top of this carry-on luggage makes it easy to maneuver into an aircraft's overhead bin - a significant advantage now that airlines charge a fee for each checked bag. The convenience allows business travelers to access and work on their Apple MacBook Pro laptops while on the way to important meetings.
The traveling case weighs only 8.7 lbs (when empty). Its outer dimensions are 19.43" L x 13.93" W x 4.69" H.
The suave, sophisticated case also enjoys the renowned, standard Pelican features: it is indestructible, watertight, airtight - no need to worry about dusty, sandy or gritty environments - extremely buoyant, and as if that weren't enough, it comes with an unconditional lifetime guarantee. Its specifications also meet U.S. military standards and the carry-on case.
Successful business people know genius is in the details. Think a Pelican case is special? You're right. But when you see or hear the name CaseCruzer, think Pelican Plus.
For more information to protect your MacBook with the new Pelican laptop case, visit http://www.casesbypelican.com. More information by phone is available at 800-882-4730 in the U.S. or 909-613-1999 internationally and by fax 909-465-5598. Or write to CaseCruzer at 4665 State Street, Montclair, CA 91763.
###