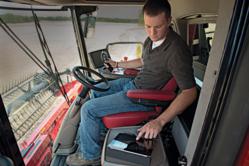 Case IH Axial-Flow combines continue to set the industry benchmark for uptime, grain quality and grain savings, regardless of the crop or field size.
Racine, Wis. (PRWEB) August 29, 2012
Case IH proudly unveils new features on its legendary Axial-Flow® combines for 2013, including a redesigned cab and a new folding auger with an industry-exclusive pivoting spout option.
"Case IH Axial-Flow combines continue to set the industry benchmark for uptime, grain quality and grain savings, regardless of the crop or field size," says Nate Weinkauf, Case IH Combine Marketing Manager. "Now, Axial-Flow combines are designed to help producers simplify harvest even further through the ultimate operator environment, added innovation and harvest control. Every design innovation and engineering improvement puts these machines another step ahead."
Guided by input from producers and custom operators, Case IH has taken the largest and quietest cab in the industry for large-model combines and made it even better.
"Our new, redesigned Case IH cab has advanced even further to set the industry standard in convenience, comfort and operator ergonomics for your office in the field," says Weinkauf. "Best of all, this new cab will be part of all models of Axial-Flow combines."
Features of the new cab include a slim Multifunction Propulsion Handle, redesigned with controls within a finger's reach. It contains an upgraded right-hand console with simple ergonomic controls and slide rail that allows for adjustment of the display, placement of a cup-holder and office tools. Multiple convenient storage locations have been added featuring brushed-chrome styling. Operators can stay tuned in and connected on the go with an iPod plug-in, and a training seat opens to a convenient, portable electric refrigerator to keep food and drinks cool and handy. Leg and foot room has been added due to increased seat travel space. In addition, a red leather luxury cab seat option is available for comfort during long harvest days and nights.
"We understand the long hours that producers spend in the combine. Our goal was to offer every convenience of an efficient, comfortable working office and make it available in every Axial-Flow model," says Weinkauf. "By introducing more powerful, more intuitive, and more efficient combines, Case IH is helping farmers be ready for whatever harvest may bring now and in the seasons to come."
In addition, all models use the state-of-the-art AFS Pro 700 display for yield monitoring and machine and guidance control in the cab. The AFS Pro 700 is compatible with all Case IH equipment, so it can easily be transferred to your tractor cab in the spring for planter control and later to your sprayer to control your application maps.
To make on-the-go unload more comfortable and safer as header widths continue to grow, Case IH has added new options to its auger offerings. In addition to the two fixed auger options that extend up to 28 feet, 9 inches, two folding auger options are now available: a 28-foot-9-inch auger that folds at a 90-degree angle and a 34-foot auger that folds at a 135-degree angle.
In addition, operators can now control a pivoting grain spout with the Multifunction Propulsion Handle, adjusting the flow of grain up to 3 feet without changing the speed of the grain cart or combine. In combination with the independent cross-auger control launched last year, producers will have more flexibility during the challenging grain cart fill process.
"Case IH Axial-Flow combine designs are driven by suggestions from our customers and designed to keep operators in the field working efficiently," says Weinkauf.
In addition, optional powered grain tank covers are controlled from the cab so the operator can concentrate on harvesting.
From the feeding system to the patented Case IH AFX rotor with its concentric rotor cage design, Axial-Flow combines continue to create smooth crop flow, improving throughput and putting more high-quality grain in the tank.
As part of the Case IH Efficient Power family, Case IH Axial-Flow 30 Series models feature added horsepower to power through tough conditions with fuel-efficient Case IH FPT Tier 4 SCR engines. Across the Case IH lineup, the same proven power plants deliver an average 10 percent efficiency advantage over comparable Tier 3 models.
"Case IH has been continuously improving the Axial-Flow AFX rotor, always setting the trend as a leader in harvesting," says Weinkauf. "Overall, the simple and reliable Axial-Flow design, with fewer moving parts, helps producers stay in the field to achieve better yields."
Case IH is a global leader in agricultural equipment, committed to collaborating with its customers to develop the most powerful, productive, reliable equipment – designed to meet today's agricultural challenges. Challenges like feeding an expanding global population on less land, meeting ever-changing government regulations and managing input costs. With headquarters in the United States, Case IH has a network of dealers and distributors that operates in over 160 countries. Case IH provides agricultural equipment systems, flexible financial service offerings and parts and service support for professional farmers and commercial operators through a dedicated network of professional dealers and distributors. Productivity enhancing products include tractors; combines and harvesters; hay and forage equipment; tillage tools; planting and seeding systems; sprayers and applicators; site-specific farming tools vehicles. Case IH is a brand of CNH (NYSE: CNH), a majority-owned subsidiary of Fiat Industrial S.p.A. (FI.MI).