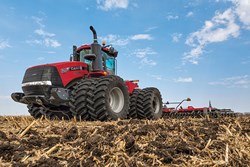 Achieving the Tier 4 final standard was a colossal challenge, but Case IH has had fewer challenges than most because we determined early on that our patented SCR solution was the right choice and haven't had to change direction.
Racine, Wis. (PRWEB) August 28, 2013
With 18 new models, Case IH is the first and only agricultural equipment manufacturer to use Selective Catalytic Reduction (SCR) technology alone to meet strict Tier 4 B/Final emissions standards.
"Achieving the Tier 4 final standard was a colossal challenge, but Case IH has had fewer challenges than most because we determined early on that our patented SCR solution was the right choice and haven't had to change direction," says Kyle Russell, Case IH Senior Director of Marketing. "Since we got it right from the start, we've been able to meet the standard while still developing class-leading horsepower and efficiency in multiple equipment lines."
The Case IH FPT SCR-only solution treats the exhaust flow downstream and after the combustion process from the engine, so the engine can generate maximum power without adding any complexity or compromising efficiency. There are no additional emissions systems or operational changes from Case IH Tier 4A to Tier 4 B/Final equipment.
Thanks to eight patents, the Case IH Tier 4 B solution delivers 95 percent NOx conversion efficiency. Competitive SCR systems provide only 80-85 percent efficiency and require a diesel particulate filter (DPF) and/or exhaust gas recirculation (EGR). Many EGR engines also require shortened or additional maintenance intervals for oil changes and filter regeneration.
The next generation of Case IH FPT engines continues to offer the industry's longest oil change intervals at 600 hours, minimal service requirements and more reliability thanks to lower exposure to soot and carbon in that is put back into the engine.
Case IH is a proven leader in SCR technology, with 35,000 engines with 17 million-plus operating hours in North America alone. Case IH FPT engines lead the industry in horsepower, efficiency and simplicity.
The Case IH Efficient Power family is all equipped with this proven high-horsepower, fuel-efficient, simple solution, boasting added power and new features to address producer needs.
Highest Horsepower Tractor Available
The new Case IH Steiger® lineup now offers the highest horsepower tractor available with power growth to an incredible 682 horsepower that allows effortless operation with improved ergonomic controls in the market today – the Steiger 620. This behemoth is part of the next generation of Steiger tractors, with significantly increased horsepower and upgraded features in the cab to help producers maximize their productivity. Available in Quadtrac® and HD wheeled versions, the highest horsepower tractor ever produced places more power to the ground effectively with less total field compaction.
New Magnum Models Offer Power, Fuel Efficiency, Ease of Use
With the ultimate mix of industry-leading horsepower, fuel efficiency and easy-to-use controls, the new Magnum™ lineup tops off at a class-leading 380 horsepower, with 435 rated peak horsepower. In addition, a new Continuously Variable Transmission (CVT) configuration for high-horsepower machines improves the machine's mechanical efficiency to make the best use of available power.
Six New Puma Models Feature Enhanced Cab
Ranging from 150 to 240 horsepower, six new Case IH Tier 4 B Puma® models are available with CVT or Powershift transmissions. Like the Tier 4 B Steiger and Magnum, cab controls have been updated, with a redesigned MultiControl handle with raised and ergonomically shaped, backlit buttons. The updated cab features a headliner with air conditioning controls and three additional storage slots, electric and heated mirrors, a tinted rear windshield, and a storage net below the passenger seat. A Bluetooth radio option is also available.
New 140 Series Axial-Flow Combines Deliver More Horsepower
New Case IH Axial-Flow® 140 series combines now offer up to 410 horsepower – 60 more horsepower than previous models. Now available with eight halogen lights on the outside of the cab, these combines are also equipped with a new spreader option that allows the operator to adjust spread distance from the cab. The chopper counter knife bank can also be adjusted from the cab, and the knife bank retracts when the combine is placed in emergency mode.
Patriot Sprayers Offer More Horsepower & Better Spray Control
The new Case IH Patriot® 3240 and 3340 sprayers offer more horsepower and new options for spray control. One new option in particular gives operators improved spray accuracy across the field. The new AIM Command PRO™ spray system provides individual nozzle control allowing nozzles to turn on and off individually, rather than by entire boom sections. This advanced spray technology minimizes overspray and overlaps, preventing over application and the resulting crop damage.
Case IH is a global leader in agricultural equipment, committed to collaborating with its customers to develop the most powerful, productive, reliable equipment – designed to meet today's agricultural challenges. Challenges like feeding an expanding global population on less land, meeting ever-changing government regulations and managing input costs. With headquarters in the United States, Case IH has a network of dealers and distributors that operates in over 160 countries. Case IH provides agricultural equipment systems, flexible financial service offerings and parts and service support for professional farmers and commercial operators through a dedicated network of professional dealers and distributors. Productivity enhancing products include tractors; combines and harvesters; hay and forage equipment; tillage tools; planting and seeding systems; sprayers and applicators; site-specific farming tools and utility vehicles. Case IH is a brand of CNH (NYSE: CNH), a majority-owned subsidiary of Fiat Industrial S.p.A.