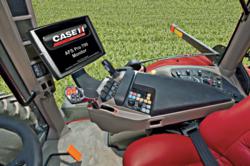 Racine, Wis. (PRWEB) September 01, 2011
With plans in place to expand existing industry partnerships, add new personnel and augment its customer support system, Case IH is renewing its commitment to its precision farming business and Advanced Farming Systems (AFS).
"We are proud of our current AFS precision farming offering, with the industry's most accurate autoguidance systems, easy-to-use machine control interfaces and accurate variable rate delivery systems," says Trevor Mecham, Case IH AFS Marketing Manager. "And Case IH continues to expand its AFS commitment, increasing our precision farming staff and making long-term plans to evolve our current customer service model."
The recently announced creation of a new business unit dedicated solely to precision agriculture aids that expansion: "The new Precision Agriculture business is further proof of our dedication to providing Case IH customers with cutting-edge precision solutions – and our intention to remain at the forefront of this technology," Mecham adds.
Mecham also points to the company's expanded strategic alliance with Trimble, a recognized leader in GPS and precision guidance technology. "This partnership will mean more joint development of innovative precision applications and services designed specifically for Case IH equipment. It will speed product development and increase our ability to have more integrated AFS product options that are factory complete to our Case IH dealers and customers," he explains. "It will also enhance our offering for our customers who run multiple makes of equipment."
In addition, Case IH is renewing its commitment to provide the kind of support our precision farming customers have told us they need.
"Our vision is to build a dedicated 24/7 support system that's available 365 days a year," he added.
According to Mecham, Case IH continues to expand and renew its AFS product offering, and the rate of those changes will continue to increase. New or improved AFS products scheduled for introduction in 2012 include:
AFS Pro 700 display – Lighter weight with faster processing speeds, the AFS Pro 700 touchscreen display is being built into all new Steiger, Magnum, and Puma tractors, Axial-Flow combines, and now Patriot sprayers and Titan floaters. No matter what the task – steering, performance monitoring, implement control, yield and data recording or as-applied mapping – the AFS Pro 700 interfaces seamlessly with Case IH systems.
Variety Tracking for AFS Pro 700 – Keep accurate records of seed varieties, inputs and performance from planting through harvest with the new AFS Variety Tracking function. Using AFS Desktop Software 11.0 or higher, Variety Tracking records data from planting to be used in conjunction with harvest data to more easily and accurately analyze variety performance, improve crop management and forecast future crop and seed selection decisions. Case IH AFS Variety Tracking data can be used for any application, and it allows the operator to track up to 30 different varieties per field.
In addition, Case IH dealers will expand their offering of precision farming tools appropriate for mixed fleet operations. The expanded toolbox available to Case IH customers will include:
EZ-Pilot – With its motor drive integrated into the steering column, the new EZ-Pilot system provides top-notch assisted steering performance and a clean, unobstructed operating environment at a reasonable cost. The new steering motor delivers 30 percent more torque that competitive systems, and Enhanced Terrain Compensation Technology adjusts the vehicle steering to compensate for tough terrain and hillsides. The EZ-Pilot architecture promotes simple plug and play installation, clear access to all instrument panels and unobstructed leg room.
All-Makes Yield Monitor – Now available through the FM-1000 display, this new function enables farmers to accurately monitor, map, gather and analyze crop yield and moisture data in real time, by seed variety, throughout the field.
All-Makes Row Guidance – Using the FM-1000 display, the system employs row sensors to signal the automated steering system to center the combine head on straight, curved or hillside rows, helping put more grain in the tank and reduce operator fatigue.
"To feed a growing global population on fewer acres, farmers must continue to increase yields while using less labor," Mecham concludes. "At Case IH, we believe that continuous improvements in our AFS precision agriculture products, services and customer support will be key to helping our customers be ready."
Case IH is a global leader in agricultural equipment, committed to collaborating with its customers to develop the most powerful, productive, reliable equipment – designed to meet today's agricultural challenges. Challenges like feeding an expanding global population on less land, meeting ever-changing government regulations and managing input costs. With headquarters in the United States, Case IH has a network of dealers and distributors that operates in over 160 countries. Case IH provides agricultural equipment systems, flexible financial service offerings and parts and service support for professional farmers and commercial operators through a dedicated network of professional dealers and distributors. Productivity enhancing products include tractors; combines and harvesters; hay and forage equipment; tillage tools; planting and seeding systems; sprayers and applicators; site-specific farming tools and utility vehicles. Case IH is a brand of CNH, a majority-owned subsidiary of Fiat Industrial S.p.A.
# # #