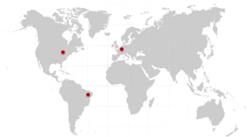 In cooperation with Case IH dealers, the AFS Support Center will provide the new level of support required by today's advanced technologies.
Racine, Wis. (PRWEB) March 20, 2012
Beginning March 1, Case IH Advanced Farming Systems® (AFS) customers will see an added level of support for their precision farming investment. The new AFS Support Center provides 24/7/365 access to service and support for everything from monitors, to guidance technology, to receivers, to section control. This additional support will help Case IH customers stay on the leading edge of technology while also minimizing downtime and offering solutions around the clock.
"In cooperation with Case IH dealers, the AFS Support Center will provide the new level of support required by today's advanced technologies," says Trevor Mecham, Case IH AFS Marketing Manager. "Now, when a customer calls 855-4AFS-HELP (855-423-7435), they will be connected to an AFS support engineer who is 100 percent dedicated to putting precision farming technologies to work in conjunction with Case IH equipment."
The AFS Support Center will further supplement the quality AFS services offered through dealerships by providing highly trained support engineers with quick access to additional resources. These support engineers will be able to tackle particularly complex issues and will be fully integrated with a centralized database/knowledge base. Also, product engineers are literally footsteps away for additional support and knowledge.
"The AFS Support Center's ability to assist with in-field support and coordinate with the service provided through dealerships will give Case IH customers an extended team of experts," says Mecham. "This 'one-stop shop' allows the AFS Support Center and the technical support staff at dealerships to "own" all issues through to resolution. Real-time data on product issues, trends and analysis are supplemental benefits."
Increased Value to Customers
"At Case IH, our goal is to provide a superior customer experience and the new AFS Support Center enables us to take customer service to a new level," says Mecham.
"The AFS Support Center provides customers with additional resources and extends their relationship with Case IH by solving issues quickly and efficiently," he continues. "We recognize that farming is not a nine-to-five job, Monday through Friday. The AFS Support Center allows owners to save time and improve overall efficiency. It's a prime example of efficient power and performance at its finest."
Case IH AFS precision farming products offer the industry's most accurate autoguidance systems, easy-to-use machine control interfaces and accurate variable rate delivery systems. Now, it offers best-in-class support through the AFS Support Center, keeping Case IH in the leadership position.
"The AFS system provides Case IH customers with cutting-edge precision solutions," says Mecham. "It encompasses the full meaning of Case IH Efficient Power through our products, our services and our people. And it is one more example of how Case IH is leading the equipment industry and helping our customers be ready."
Case IH is a global leader in agricultural equipment, committed to collaborating with its customers to develop the most powerful, productive, reliable equipment – designed to meet today's agricultural challenges. Challenges like feeding an expanding global population on less land, meeting ever-changing government regulations and managing input costs. With headquarters in the United States, Case IH has a network of dealers and distributors that operates in over 160 countries. Case IH provides agricultural equipment systems, flexible financial service offerings and parts and service support for professional farmers and commercial operators through a dedicated network of professional dealers and distributors. Productivity enhancing products include tractors; combines and harvesters; hay and forage equipment; tillage tools; planting and seeding systems; sprayers and applicators; site-specific farming tools and utility vehicles. Case IH is a brand of CNH (NYSE: CNH), a majority-owned subsidiary of Fiat Industrial S.p.A. (FI. MI).