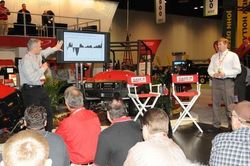 They draw on their knowledge as graduates of South Dakota State University, as owners of one of the 10 largest U.S. crop protection dealerships - and mostly as farmers of 2,500 acres, trying to raise better crops and stay profitable.
Racine, Wis. (PRWEB) February 9, 2010
South Dakota farmers and Ag PhD hosts, Brian and Darren Hefty answered growers' top 10 questions during educational sessions held at the Case IH booth during the recent Ag Connect Expo in Orlando.
Prior to the show, event sponsor Case IH had invited farmers to post their questions on http://www.caseih.com. The Heftys compiled the submissions and chose the 10 most common questions - which ranged from agronomic inquiries to future production speculation. The popular television hosts presented their responses to a large, captivated audience.
"It's no surprise the Hefty brothers packed the house. They're smart, entertaining and have great insights on farming," says Jim Walker, Case IH vice president of North America. "They draw on their knowledge as graduates of South Dakota State University, as owners of one of the 10 largest U.S. crop protection dealerships - and mostly as farmers of 2,500 acres, trying to raise better crops and stay profitable."
The 10 most frequently cited questions, and the Hefty brothers' answers, follow.
No. 1 - Is now a good time to buy farmland?
Brian: "When you adjust farmland values to 2008 dollars, we're at the highest price ever. All the factors are lining up for high-priced land. We've got historically low interest rates. We have good commodity prices. Farmers have cash. The stock market's lousy. The farm program's decent. Crop insurance is good. More people want to hunt and buy land for recreation. We might not be at the top, but we're getting close. Also, in the last few years, we've seen gross rent to value ratio go from about 8 percent down to maybe 4 to 5 percent today. The stock market, on average in the last 100 years, has paid back 10 percent."
No. 2 - How can a young farmer minimize risk and debt to build a good operation long-term?
Darren: "You've got to control your input and your expenses. If you're 21 and save $3.81 a day, at age 65 you would have a million bucks. So think about farm expenses, and how much you could save just by being a little smarter with some of your inputs. Don't get over-leveraged. When you get a good profit, take the good profit. And study and utilize crop insurance."
Brian: "One of the things our dad taught us is that if you want to be successful, you do the jobs that pay $100 an hour - maybe your own spraying, field scouting, tiling or harvesting. And you pay somebody else to do the $5 an hour jobs mowing the lawn, fixing the fence, painting the barn. It all comes down to time management."
No. 3 - Do you have to farm big to compete in the future?
Darren: "Absolutely not. There are advantages and disadvantages of farming big. Potentially you can get some better deals on inputs. You'll get more attention from most suppliers. You can often spread equipment, facility and labor costs over more acres. But you've also got a lot more to manage. It's harder to be real timely with planting, spraying, harvesting, almost anything you do. Anytime you've got more land, you've got more risk. More dollars invested, more credit needed, more labor needed, more facilities needed."
No. 4 - What nutrients do crops remove?
Brian: "A 200-bushel corn crop - just the grain - takes out about 76 pounds of phosphate and about 60 pounds of potassium. And a 60-bushel soybean crop will take out about 84 pounds of potassium and 48 pounds of phosphate. So in a two-year span, to just replace the nutrients you removed with the grain only, you'd have to put out about 250 pounds of potash and 250 pounds of MAP. The average U.S. farmer has not been putting back as much as they've been taking out. How long can that continue?"
No. 5 - What's the best way to replace the fertility you're removing every year?
Darren: "A few years ago when the fertilizer prices started getting crazy, we went to strip till for the nutrient placement. We were putting our nutrients down about six to 10 inches deep, and planting right over the top. We invested some money in RTK GPS guidance, and one of the best things we've done with it is put nutrients on in the fall and come right back to that same spot in the spring and plant directly over it. We've had better yields and we've also been able to get by with less fertilizer."
Brian: "And don't forget about secondary micronutrients. It would only cost a few bucks to throw them out there, but they're important too. And a lot of times, we find they're the biggest limiting factor on a lot of farms."
Darren: "We got a lot of questions about farmers not getting to do their normal fertilizer program last fall. Now going into the spring, what can I do? We're using some liquid fertilizer. It doesn't have to be your total program, you can still use some dry out there too. The problem is, it takes moisture to break down those pellets, and corn needs a lot of nutrients early in the year. So have some liquid fertilizer so your crops have the nutrients they need early in the season, especially if you're cold or dry."
No. 6 - When will the U.S. corn average be 250 bushels per acre, and what do we need to do to get there?
Brian: "We think probably in the next 20 years there's a decent chance we'll be at 250-bushel corn, and some of us are a little more optimistic, and think it'll be even higher than that."
Darren: "Let's talk about how we can get to higher yielding corn. The first thing is improved drainage. This is a huge deal and we're seeing it again this year. There's a lot of corn in the field, and better drainage could have helped get that corn out."
Brian: "Other steps to higher-yielding corn: Learn how to read a soil test. Use plant tissue analysis. Balance your fertility. Improve seed to soil contact. Reduce compaction. Control weeds, insects and diseases. Study and begin to use plant growth regulators. And plant the newest, best genetics."
No. 7 - Is now a good time to buy new equipment?
Brian: "If you need to buy something, buy it. If you don't need it, don't buy it. For us, 'need' means return on investment, tax consequences, time savings, repair costs, and being able to spread out all the equipment purchases. A lot of the new equipment now is more efficient. That's one of the reasons we got a new planter, so we can get things planted quicker and maybe get better seed to soil contact. We bought a new tractor, because we needed the horsepower. A lot of the newer equipment, the reason we've gone to it is the return on investment is pretty good."
No. 8 - Is a grain cart a good investment? Does it outweigh the cost and the potential downside of compaction?
Brian: "What we've found is if we've got two grain carts for two combines, it's like having three combines in the field. As for the whole compaction issue, they say 80 percent of compaction is created by the first trip over the field. So you want the grain cart following that exact same path every time to get out of the field and over to the trucks. As long as you're doing that, we just don't think the risk is that bad. If you do have issues with compaction, improve your drainage, stay off wet soils whenever possible, and increase your organic matter."
No. 9 - How do I manage Roundup resistant weed issues on my farm?
Darren: "We've got to get back to scouting. There's no question about it. We have to scout before we spray, and we're going to have to use some different products, so we'll have to plan ahead. But Roundup resistant weeds aren't that scary."
No. 10 - Will soybean yield increases come from inoculants, fungicides or insecticides?
Darren: "The new inoculants out there are much better. Typically, we're gaining a bushel or two an acre on beans, but we've seen gains of five to eight bushels, depending on the year and conditions. And an inoculant costs a dollar or two an acre."
Brian: "Fungicide is another thing we've been experimenting with. We've been using a half rate of fungicide because we're in a relatively dry area, and on average we've been gaining two to three bushels pretty consistently. One year we had a 17-bushel loss on the untreated check strip. So don't count on 17, but every once in a while you hit a home run. The key with fungicides is you have to get good spray coverage."
Darren: "With insects it's a little easier because you actually see the bugs out there and then you go kill them. One of the big ones over the last few years is soybean aphids, and it's inexpensive to spray - definitely worth doing."
Brian: "With insecticide and fungicide we can do them both at the same time. Grand total, we'll spend maybe $9 an acre, which is about the cost of a bushel of beans. Do you really think that by controlling your diseases and your insects, you're not going to gain at least a bushel? Just look at return on investment."
###