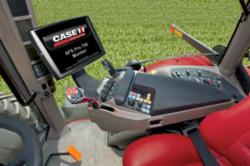 Given the price of diesel fuel today, even incremental fuel economy improvements can translate into real dollars in our customers' pockets.
Racine, Wis. (PRWEB) September 08, 2011
Case IH is proud to announce that its Diesel Saver™ Automatic Productivity Management (APM) system won the 2011 Rain Bird Engineering Concept of the Year award. Presented annually by the American Society of Agricultural and Biological Engineers (ASABE), this prestigious award recognized Senior Project Engineer Yangming Hou and the Diesel Saver system for its innovative capacity to provide fuel savings.
"Our Diesel Saver APM system automatically adjusts both the gear setting and engine speed to the most fuel-efficient mode for a given load," says Tom Dean, Manager, Case IH High Horsepower Tractor Marketing. "That can provide up to a 25 percent improvement in fuel economy and power performance, even in changing field conditions. Given the price of diesel fuel today, even incremental fuel economy improvements can translate into real dollars in our customers' pockets."
Diesel Saver APM is one of the key technologies that drives the Case IH Efficient Power family. It is a fully integrated powertrain management system that provides maximum efficiency with minimum fuel consumption non-stop, while also reducing noise and operator fatigue.
In APM mode, the operator simply uses the engine throttle handle like a propulsion lever or ground-speed selector. Once the desired ground speed is reached, the APM system adjusts the engine speed and transmission ratio continuously to provide maximum fuel economy. Because the system reduces engine speed whenever the implement load allows, it reduces fuel consumption, and leaves the operator free to concentrate on the task at hand.
"Even an inexperienced operator will save fuel using APM, because there's no worrying about shifting gears at just the right time, or adjusting the engine rpm with the throttle," Dean adds. "It takes the guesswork out of setting the right gear/throttle combination."
The Diesel Saver APM system is standard equipment on Case IH Efficient Power family tractors, including the Steiger®, Magnum™ and Puma®.
The Rain Bird Engineering Concept of the Year award is presented annually to an engineer or engineering team for a unique contribution to developing or advancing a new engineering concept. Through this award, ASABE spotlights ideas that result in new hardware, standards of practice, design trends, educational methods or in some other way significantly affect agricultural engineering or the industries it serves. This is the second time in three years that a Case IH product has been recognized as Concept of the Year. In 2009, ASABE recognized the 16-man team who developed the Module Express, the first cotton picker with on-board module building.
The 2011 Rain Bird Engineering Concept of the Year award is the second major ASABE award for the Case IH Diesel Saver APM system. In 2009, the system earned an ASABE AE50 award, recognizing the 50 most innovative new agriculture equipment products from around the globe.
Case IH is a global leader in agricultural equipment, committed to collaborating with its customers to develop the most powerful, productive, reliable equipment – designed to meet today's agricultural challenges. Challenges like feeding an expanding global population on less land, meeting ever-changing government regulations and managing input costs. With headquarters in the United States, Case IH has a network of dealers and distributors that operates in over 160 countries. Case IH provides agricultural equipment systems, flexible financial service offerings and parts and service support for professional farmers and commercial operators through a dedicated network of professional dealers and distributors. Productivity enhancing products include tractors; combines and harvesters; hay and forage equipment; tillage tools; planting and seeding systems; sprayers and applicators; site-specific farming tools and utility vehicles. Case IH is a brand of CNH, a majority-owned subsidiary of Fiat Industrial S.p.A.
###