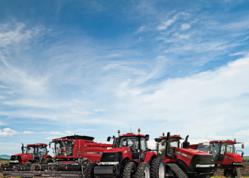 We are confirming that
Case IH will use exclusively SCR technology to meet the final stage of off-road governmental emissions regulations in 2014.
Racine, WI (PRWEB) September 14, 2011
Designed to deliver more power, burn less fuel and meet Tier 4 emissions standards, Case IH has now released a complete family of high-horsepower equipment utilizing Efficient Power technologies. The introduction of the new Case IH Axial-Flow® 30 Series combines, Patriot® 4430 sprayer and Maxxum® tractors complements the Steiger®, Magnum™ and Puma® tractors that went into service last winter and confirms the Case IH commitment to better meet producers' needs while also meeting government emissions regulations.
Case IH Efficient Power equates to equipment and technology that is powerful, smart and simple: "Case IH FPT Selective Catalytic Reduction technology helps meet Tier 4 emissions requirements, but also improves engine responsiveness and can reduce fuel consumption by 10 percent on average," Kyle Russell, Senior Director of Marketing, Case IH North America explains. "It is hands-down, the best approach for high-horsepower ag equipment, especially when you consider high load requirements and how important fuel efficiency and maintenance costs are to farmers."
"That's why we also are confirming that Case IH will use exclusively SCR technology to meet the final stage of off-road governmental emissions regulations in 2014," Russell continues. "Our Tier 4B technology will not require regeneration of particulate filters or any Cooled Exhaust Gas Recirculation (CEGR) technology for any of our high horsepower equipment."
New additions to the Case IH Efficient Power family, featuring the SCR technology, include:

New Case IH Axial-Flow 30 Series combines, designed to improve performance, simplify harvest and minimize fuel consumption.
The Patriot 4430 sprayer, which sets the industry standard for power, fuel efficiency, productivity and comfort.
The Maxxum tractor lineup, now equipped with enhanced operator controls, fuel-saving engines and more powerful hydraulics to deliver productivity, fuel efficiency and versatility.
The Magnum 370 CVT tractor, which is set to debut in late 2012 as the highest horsepower mechanical front-drive (MFD) tractor on the market at 419 maximum boosted engine horsepower.
"Farmers can multiply our Efficient Power advantage across their operation's fleet to achieve real savings," says Russell. "Plus, with more value-added people in the field helping put Efficient Power technologies to work, you get a true competitive advantage."
Stop by the Case IH booth at Husker Harvest Days to view the entire Efficient Power lineup, as well as a number of other new Case IH products, including:

New Farmall B compact tractors, which includes four models ranging from 30-50 hp
Upgraded AFS Pro 700 touchscreen monitor with a new Variety Tracking function
"Farmers only get one shot at every growing season, and many variables, like weather, markets and government regulation, are out of their control," says Russell. "Our goal is to help farmers to be ready to take their best shot and maximize what they can control in the most efficient way possible."
Case IH is a global leader in agricultural equipment, committed to collaborating with its customers to develop the most powerful, productive, reliable equipment – designed to meet today's agricultural challenges. Challenges like feeding an expanding global population on less land, meeting ever-changing government regulations and managing input costs. With headquarters in the United States, Case IH has a network of dealers and distributors that operates in over 160 countries. Case IH provides agricultural equipment systems, flexible financial service offerings and parts and service support for professional farmers and commercial operators through a dedicated network of professional dealers and distributors. Productivity enhancing products include tractors; combines and harvesters; hay and forage equipment; tillage tools; planting and seeding systems; sprayers and applicators; site-specific farming tools and utility vehicles. Case IH is a brand of CNH, a majority-owned subsidiary of Fiat Industrial S.p.A.
###