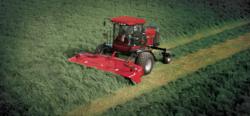 Whether you're a large commercial producer out West or a dairy farmer out East, at the end of the day, most guys need the same thing: reliable equipment to get the most hay up in the shortest time.
Racine, Wis. (PRWEB) March 27, 2012
At more than $200 per ton, hay is a precious commodity, which is why getting the most high-quality product from each acre has never been more important.
"We're seeing a reduction in hay acreage across North America," says Dr. Kevin Shinners, Professor of Agricultural Engineering at the University of Wisconsin-Madison. "Because of high commodity prices in grain, we've seen a lot of hay ground plowed under and put into row crops. With acreage dwindling, hay and forage producers have to do everything possible to get all we can out of every acre.
"That means drying the crop as quickly as possible by conditioning it well, getting it off the field and into storage, and keeping it protected so we can maintain its value," he adds. "Especially when hay prices are $200 to $300 per ton, baling when the moisture content is too high or storing hay poorly has real negative economic impacts."
Shinners sees a trend toward more sophisticated, efficient equipment such as self-propelled harvesters, as well as custom harvesters handling more acreage. He says for larger producers and custom harvesters, it's all about productivity, rapid road transport, and efficiency – which requires highly productive, reliable harvesting equipment to get through acreage as quickly possible.
Case IH Hay and Forage Marketing Manager, Brett DeVries, agrees. "Whether you're a large commercial producer out West or a dairy farmer out East, at the end of the day, most guys need the same thing: reliable equipment to get the most hay up in the shortest time." He says hay tools have been evolving to do exactly that. "Machines are bigger, with wider cutting widths so you can get more done in one pass. At the same time, we're improving overall efficiency."
For instance, Case IH recently introduced a new disc header for self propelled windrowers – the RD 193 – that's 19-feet wide, and requires less horsepower to operate than previous models. "It's the largest disc header in the industry, it saves fuel and it maximizes cut quality," DeVries notes. "With a 19-foot rotary disc head, we can cut a lot more hay. Saving time also is important, which is where baling large square bales or round bales that don't require tying comes in.
And when it comes to baling, Case IH large square balers and round balers let you work faster with our high capacity pick up and superior tying systems. "On a Case IH round baler, you can choose twine or net wrap with the push of a button," DeVries adds. "On the large square baler there's an auto loop system, so you don't have to grease the baler every day. It greases automatically, saving time and money."
Farmers can see this new equipment firsthand at Case IH dealers. And, they can take advantage of the great offers on the full line of Farmall®, Puma® and Maxxum® tractors, as well as balers and windrowers, through the Case IH Field of Deals sales event that is running now through April 30, 2012.
For more information on the Case IH Field of Deals sales event and sweepstakes, including official rules, visit http://www.caseihdeals.com.
Case IH is a global leader in agricultural equipment, committed to collaborating with its customers to develop the most powerful, productive, reliable equipment – designed to meet today's agricultural challenges. Challenges like feeding an expanding global population on less land, meeting ever-changing government regulations and managing input costs. With headquarters in the United States, Case IH has a network of dealers and distributors that operates in over 160 countries. Case IH provides agricultural equipment systems, flexible financial service offerings and parts and service support for professional farmers and commercial operators through a dedicated network of professional dealers and distributors. Productivity enhancing products include tractors; combines and harvesters; hay and forage equipment; tillage tools; planting and seeding systems; sprayers and applicators; site-specific farming tools and utility vehicles. Case IH is a brand of CNH (NYSE: CNH), a majority-owned subsidiary of Fiat Industrial S.p.A. (FI.MI).