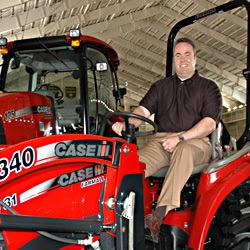 Nearly a century later, all three are much bigger, stronger and more successful than any of the founders could have ever expected
Racine, WI (PRWEB) June 13, 2008
Green Bay's head coach Mike McCarthy is seeing Red these days: Case IH Red. "Green Bay's Coach McCarthy is officially endorsing Service Motor Company - one of the top Case IH dealerships serving the greater Green Bay area - as well as the famed Case IH Farmall line of tractors," says Julie Rudnick, Case IH manager of marketing communications.
"Coach is appearing in television and print advertising for Service Motor Company, explaining why a new Case IH Farmall tractor was the best choice for him," Rudnick adds. "In the ads, he credits the power and reliability of Case IH equipment."
Coach McCarthy will serve as a guest speaker for the Service Motor Company special VIP customer event to be held at Lambeau Field.
"We're thrilled to have Coach McCarthy on the Case IH team. With our worldwide corporate headquarters in Wisconsin, thousands of Case IH enthusiasts are obviously die-hard Green Bay fans - and have been for decades," says Rudnick.
"And with 2008 being the 85th anniversary of the famous Farmall tractors, it's a great time to celebrate all three legacies," she says. Service Motor Company was established in 1916, when Antone Sommer began selling Case tractors on his farm near Dale, Wisconsin. That was three years before Curly Lambeau formed a football team in Green Bay, in 1919. Four years later in 1923, the first Farmall tractors were introduced. "Nearly a century later, all three are much bigger, stronger and more successful than any of the founders could have ever expected," Rudnick notes.
Service Motor Company has been serving northeastern and central Wisconsin's football fans for 90 years. The company has six locations: Green Bay, Dale, Fond du Lac, Seymour, Stevens Point and Wausau.
Case IH is a global leader in agricultural equipment, committed to collaborating with its customers to develop the most powerful, productive, reliable equipment - for those who demand more. With headquarters in the United States, Case IH has a network of dealers and distributors that operates in over 160 countries. Case IH provides agricultural equipment systems, flexible financial service offerings and parts and service support for professional farmers and commercial operators through a dedicated network of professional dealers and distributors. Productivity enhancing products include tractors; combines and harvesters; hay and forage equipment; tillage tools; planting and seeding systems; sprayers and applicators; and site-specific farming tools.
###