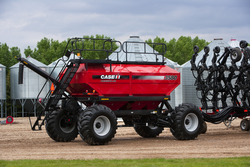 A large capacity, 10-inch auger for fast filling also is standard
Racine, Wis. (PRWEB) June 16, 2010
Case IH unveiled the latest addition to its air seeding lineup - the Precision Air 3580 air cart - this week at the Western Canadian Farm Progress Show in Regina, Saskatchewan. Engineered for large acreage small grain growers who need to cover thousands of acres in a short planting window, the Precision Air 3580 has a three-compartment tank with a total capacity of 580 U.S. bushels.
The three tank compartments hold 135 bushels, 183 bushels and 262 bushels respectively, providing growers with more seeding and fertilizer options and higher capacities in one pass. Tanks are made of steel, with tough, powder coat paint inside and out for a harder finish, better rust protection and longer wear.
"Our broadacre customers are asking us for larger drills and carts with more capacity, so they can run longer between stops," says Gord Engel, Case IH seeding product manager. "The less time farmers spend re-filling seed and fertilizer tanks, the more acreage they cover during the prime planting window, and the more they reduce seeding costs.
"Whether you're growing wheat, barley, rye, oats, canola or pulse crops, the further north you go, the smaller the planting window gets," Engel adds. "Planting at the right time helps maximize yields. With the Precision Air 3580, growers cover more acres per hour, per day, per week and per season."
Accurate at higher rates
The patented downdraft meter system on the Precision Air 3580 divides product into equal sections - one for each primary line. Air and product are mixed in a parallel flow for smooth transition from meter box to distribution system, resulting in precise, reliable distribution of seed and fertilizer.
"It's the same proven system that's available on other Case IH air carts," Engel says. "It's one of the most accurate metering systems on the market, and it's capable of putting on the highest applications rates in the industry. Our competitors have to slow down to apply the same amounts."
Engel adds that all systems can be controlled and monitored from the comfort of the tractor cab, thanks to ISO 11783-compliant electronics. "The operator can adjust on- the-go to meet changing field conditions, using the Case IH AFS® Pro 600 display or the AFS 300 display."
Superior flotation reduces packing
A tough, wide stance frame and quad wheel configuration on the Precision Air 3580 provide excellent stability during transport and flotation in the field. "All four tires are the same size, and the axles have equal pressure," Engel explains.
The Case IH Precision Air 3580 air cart is designed to handle tough conditions in the field and on the road, with options like a transport beacon and field lighting package for extra visibility before sunrise and after sundown.
"Large-acreage small grains farmers rely on seeding equipment to work in less than ideal field conditions, because they have no choice," Engel continues. "They're already battling the weather to get thousands of acres seeded before the planting window closes. And in some areas there's a shortage of dependable farm labor, so growers are very likely running their equipment longer and later than ever."
Operator convenience
The Precision Air 3580 air cart has a large, convenient rear staircase for safe, easy operator access to the top hatches for filling and inspection. "A large capacity, 10-inch auger for fast filling also is standard," Engel adds.
Other optional features include: a rear hitch for towing additional trailing units, such as anhydrous tanks or liquid fertilizer carts; and ultrasonic bin depth sensors. "These give you easy-to-understand, fuel-type gauges to keep an eye on your bin levels," Engel says.
The Case IH Precision Hoe 800 and Flex Hoe 700 air drills are engineered to work with and complement all Case IH Precision Air air carts. "They're manufactured in the CNH production facility in Saskatoon, by experienced employees who understand the rigors of today's large scale grain farming operations," Engel notes. "Our Saskatoon plant and people share a strong legacy of seeding excellence."
Case IH is a global leader in agricultural equipment, committed to collaborating with its customers to develop the most powerful, productive, reliable equipment - for those who demand more. With headquarters in the United States, Case IH has a network of dealers and distributors that operates in over 160 countries. Case IH provides agricultural equipment systems, flexible financial service offerings and parts and service support for professional farmers and commercial operators through a dedicated network of professional dealers and distributors. Productivity enhancing products include tractors; combines and harvesters; hay and forage equipment; tillage tools; planting and seeding systems; sprayers and applicators; utility vehicles and site-specific farming tools. Case IH is a brand of CNH (NYSE: CNH), a majority-owned subsidiary of Fiat Group (FIA: MI).
###