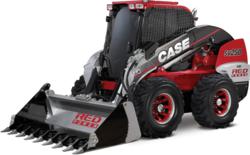 Just as Case IH helps producers Be Ready to embrace the challenges of the agriculture industry, FFA helps students Be Ready for a future career in the agriculture industry.
Racine, WI (PRWEB) August 29, 2012
Case IH is pleased to continue its long-standing support of the National FFA Foundation by donating the proceeds from the sale of a one-of-a-kind skid steer nicknamed "Red Power." The online auction kicked off today at the Farm Progress Show and runs through Sept. 30, 2012.
The auction proceeds will be split accordingly: 89 percent to the National FFA Foundation, 10 percent to the winning bidder's state FFA association and 1 percent to the winning bidder's FFA chapter of choice.
"Case IH is thrilled to kick off the 'Red Power' auction today," says Kyle Russell, Case IH Senior Director of Marketing. "Just as Case IH helps producers Be Ready to embrace the challenges of the agriculture industry, FFA helps students Be Ready for a future career in the agriculture industry."
For more than 60 years, Case IH and its local dealers have supported the FFA, including their current sponsorship of the New Century Farmer and American FFA Degree programs.
"We are pleased that Case IH chose FFA to receive the proceeds from the sale of 'Red Power' and appreciate its ongoing support of helping our organization prepare the next generation of professional agriculturalists," says Rob Cooper, National FFA Foundation Executive Director.
Purple Wave, a full-service equipment auction firm, is hosting the auction on their site. "Case IH, agriculture education and equipment auctions are recognized threads in America's fabric," says Jerrod Westfahl, President and Chief Executive Officer of Purple Wave. "We are honored to be part of this project to benefit the unparalleled programs national, state and local FFA organizations deliver. By assisting with the 'Red Power' auction and establishing initiatives like our Bid for Blue program to benefit local FFA chapters, we are making a direct investment in FFA's important mission of preparing the next crop of agriculture leaders."
Throughout the past year, "Red Power" has been on display at various events showing off its unique features, including added dual chrome exhaust stacks, custom eight-spoke-pattern wheels with chrome center caps and lugs, tinted cab windows and a custom red leather seat. Red LED lighting illuminates the skid steer's undercarriage, the rear add-on counterweights, the operator compartment and the loader arm. The cab also features indirect LED lighting and LED spots in the air conditioning vents.
From a practical standpoint, "Red Power" is a Case model SV250 skid steer and part of the Case Alpha Series of skid steers. "Red Power" features 82 gross engine horsepower and a 2,500-pound rated operating capacity (ROC). Factory features include a full cab with heat and air conditioning and switchable (pattern) electro-hydraulic (EH) controls. "Red Power" also offers the High Flow Plus Performance Package, with high-flow hydraulics, front electric, ride control and electronic self-leveling. In addition, it features 14-inch tires, a 4 in 1™ bucket with tooth bar, a hydraulic coupler, cylinder guards, four-point strobe kit, a rear side light kit and a counterweight kit.
"Red Power" was created as a cooperative project between Case IH and its sister company, Case Construction. To view the auction listing, read the terms and place bids, visit http://www.purplewave.com/redpower.
Case IH is a global leader in agricultural equipment, committed to collaborating with its customers to develop the most powerful, productive, reliable equipment – designed to meet today's agricultural challenges. Challenges like feeding an expanding global population on less land, meeting ever-changing government regulations and managing input costs. With headquarters in the United States, Case IH has a network of dealers and distributors that operates in over 160 countries. Case IH provides agricultural equipment systems, flexible financial service offerings and parts and service support for professional farmers and commercial operators through a dedicated network of professional dealers and distributors. Productivity enhancing products include tractors; combines and harvesters; hay and forage equipment; tillage tools; planting and seeding systems; sprayers and applicators; site-specific farming tools and utility vehicles. Case IH is a brand of CNH (NYSE: CNH), a majority-owned subsidiary of Fiat Industrial S.p.A. (FI.MI).