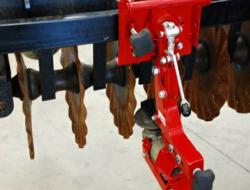 We couldn't find a sharpener anywhere in the world, so we invented our own.
Racine, WI (PRWEB) September 16, 2011
It's an age-old problem in agriculture: ground-engaging tools – disks, coulters and wavy blades that penetrate soil and cut crop residues – eventually go dull. Until now, there was no way to realistically sharpen a wavy-bladed implement with dull blades. "It is with great excitement that Case IH announces the Robo-SharpenerTM," says Rob Zemenchik, Sales and Marketing Manager, Case IH Tillage Products. "It's the world's first manually supervised 'field-service robot' for sharpening wavy or regular tillage blades on the Case IH True-Tandem 330 Turbo."
"We introduced the 330 Turbo vertical tillage tool in 2007, with its patented low-concavity wavy blades," Zemenchik adds. "Case IH field specialists soon recognized that we could further extend customer value if we could provide a sharpener for its wavy blades. We couldn't find a sharpener anywhere in the world, so we invented our own."
The patent-pending Robo-Sharpener system sharpens a Case IH Turbo blade in just a few minutes. The sharpener is equipped with a trolley system, allowing it to roll along a rail from blade to blade while the operator watches. "This provides easy repeatability in sharpening," Zemenchik says. "And because it's mounted to the implement, there's no need to worry about finding level ground. Sharpening can occur in the field, the farm yard or the service bay."
Not only does the Case IH Robo-Sharpener sharpen wavy blades, it also sharpens standard concavity disk blades. After using the Robo-Sharpener, the blades will have a restored cutting edge that can slice through tough residue and penetrate hard soil.
The key breakthrough in developing the Robo-Sharpener was exploiting the principle of the pendulum, first studied by Galileo in 1602. With the appropriate leverage provided by the sharpener's own weight mounted to the pendulum, the sharpening wheel tracks the undulations of the wavy blades. A gang driver rotates the blades at the ideal speed while being sharpened. This balance also keeps heat away from the target blade so blade steel integrity is not compromised. "A gleaming, fresh edge emerges within seconds, giving the blade the full cutting capability it had when new," says Zemenchik. "We were surprised with how sharp and uniform the blades got. The toughest corn stalks will be no match for a freshly sharpened True-Tandem 330 Turbo."
The economics are attractive, too. While sharpening labor and applicable travel costs vary by area, utilizing the Robo-Sharpener from your local Case IH dealer can save you up to 85 percent of the cost to re-blade an implement. "This offers tremendous savings for Case IH customers who want top performance from their vertical tillage tools or disks, because you no longer have to prematurely re-blade machines," Zemenchik explains. "Re-sharpening multiple times for multiple savings is now feasible." Additional value is gained from having sharp implement blades. "Sharp blades enhance nutrient cycling of phosphorus and potassium in crop residues," adds Zemenchik. "And, tire damage is reduced because sharp blades help manage root crowns from stiff corn stalks."
"We appreciate the efforts of Case IH dealers to provide and support the best machines possible for our customers. Any opportunity a dealer has to extend value beyond the original equipment purchase is terrific," Zemenchik concludes. The Case IH Robo-Sharpener will soon be available to Case IH dealers and later available to Case IH customers.
Case IH is a global leader in agricultural equipment, committed to collaborating with its customers to develop the most powerful, productive, reliable equipment – designed to meet today's agricultural challenges. Challenges like feeding an expanding global population on less land, meeting ever-changing government regulations and managing input costs. With headquarters in the United States, Case IH has a network of dealers and distributors that operates in over 160 countries. Case IH provides agricultural equipment systems, flexible financial service offerings and parts and service support for professional farmers and commercial operators through a dedicated network of professional dealers and distributors. Productivity enhancing products include tractors; combines and harvesters; hay and forage equipment; tillage tools; planting and seeding systems; sprayers and applicators; site-specific farming tools and utility vehicles. Case IH is a brand of CNH, a majority-owned subsidiary of Fiat Industrial S.p.A.
###