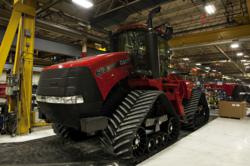 "The Case IH Steiger 600 is built for the toughest conditions a farmer can encounter," says Mitch Kaiser, Case IH Steiger Tractor Marketing Manager.
Racine, WI (PRWEB) April 28, 2011
With 5,500 acres of canola, wheat, lentils, peas, and barley, Diamond G Farms owner Lawrence Grykuliak needed a fuel-efficient tractor with enough horsepower to handle large implements and hilly terrain on his Vegreville, Alberta farm. To meet these needs, Grykuliak ordered the world's highest horsepower, most fuel-efficient production tractor – a Case IH Steiger® 600.
Grykuliak became the very first owner of these new tractors when he took delivery of his Quadtrac® 600 – a Steiger tractor with industry-exclusive four independent positive drive tracks – at the Case IH manufacturing facility in Fargo, N.D. Grykuliak and his family were recognized in a special ceremony and inducted into the Platinum Club, an honor reserved for customers who witness their tractor being built and meet plant management, staff and engineering teams.
"The Case IH Steiger 600 is built for the toughest conditions a farmer can encounter," says Mitch Kaiser, Case IH Steiger Tractor Marketing Manager. "Its efficient power allows it to pull the largest implements available, while reducing fuel costs, and it is durable and reliable with the industry's only four post suspended cab to keep the operator comfortable all day. Case IH is honored to have Diamond G Farms, the owners of the first production Steiger 600, visit Fargo to see their new tractor built."
Diamond G Farms is a family operation. Lawrence's father, Peter, is 81 years old, but still works on the farm. Lawrence's son, Shawn, joined the operation two years ago, and Lawrence's wife, Elaine, daughter Carmel, son-in-law Tim, and daughter-in-law Erin also help get everything done – although Grykuliak says he's the only one who farms full-time. His two granddaughters are the fourth generation to live on the farm.
Before 2008, Diamond G Farms operated multiple brands of equipment, and each had problems. Grykuliak started exploring different options, and made the switch to Case IH equipment because he could get all the high-quality, dealer-supported equipment he needed, from sprayers to tractors to combines, from one company.
"It's easy to farm if you have support," he says. "The biggest support is equipment. Because of the short growing season, you need equipment that is ready to go." Grykuliak says equipment durability, excellent service nearby, and the knowledgeable sales staff at Hi Way Service in Westlock, Alberta help his farming operation.
Prior to buying the new Quadtrac 600, the family had a 535-horsepower Steiger. However, they have a 70-foot air drill to pull for planting and a 25-yard scraper for summer landscaping around the farm, so a tractor with more pulling power was needed.
"I also like the idea of new innovations and technology," Grykuliak says. "The Tier 4 engine is better for the environment, and we have to preserve that. Farmers are in tune with nature – it's all around us."
Starting in 2011, all new high-horsepower tractors are required to meet government-regulated Tier 4A emission standards. To meet these standards, Case IH tractors with more than 175 horsepower utilize Selective Catalytic Reduction (SCR) technology. The SCR system runs separate from the main engine function, treating the exhaust post-combustion, which allows Steiger engines to be tuned for peak performance.
This post-combustion process offers several other advantages to owners and operators. It allows a more complete fuel burn and requires less cooling in high-horsepower applications. It also lengthens service intervals because eliminating exhaust gas recirculation keeps engine oil cleaner, which reduces maintenance requirements and maximizes uptime in the field.
Preliminary Nebraska Tractor Test Lab results indicate that new Tier 4A Case IH tractors with Selective Catalytic Reduction (SCR) technology have set new industry records for fuel-efficient power. The Steiger 600 set the record for drawbar horsepower – and fuel efficiency – versus the competitions' biggest tractor.
Case IH Steiger tractors offer more than just power – they also feature the most comfortable, productive cab on the market. Already boasting the largest cab in the industry with unprecedented visibility, the new Steiger cab is designed to function as an office in the field with exclusive four post cab suspension.
Steiger tractors now feature an exclusive 40-degree, right-hand swivel seat, which provides operators with a more ergonomic field of vision to see the front of the tractor while also monitoring the implement behind, which helps minimize neck strain. In conjunction with Case IH Advanced Farming Systems (AFS) AccuGuide™ autoguidance, operators in the swivel position can more easily monitor the true productivity zone – the implement behind the tractor.
Several cab controls have been relocated to the upper right-hand side of the cab headliner within easy reach, while the most frequently used functions are contained in the new MultiControl Armrest console, bringing all vital tractor operations into one easy-to-operate controller. And, a new AFS Pro 700 color display is integrated into the MultiControl armrest, and moves with the seat.
All Steiger tractors feature the hallmarks of power, durability, and comfort. The Steiger brand can be traced back to John Steiger and his sons, Douglas and Maurice, who built a high-horsepower tractor for their Red Lake Falls, Minn., farm in 1957. The Steiger family built more than 100 tractors in their farm shop before creating Steiger Tractor, Inc. and opening a manufacturing facility in 1969 in Fargo.
Since then, the Fargo facilities have been consolidated into the current manufacturing plant, which opened in 1975. In 1986, Steiger was purchased by Case IH's parent company, and today the plant manufactures several models of Steiger tractors with a horsepower range of 390 to 670. The Fargo plant provides jobs for about 750 people.
"Case IH is proud to offer the Steiger 600 as an option for producers who need lots of power and demand fuel efficiency as well as a comfortable operator environment," says Kaiser. "Diamond G Farms will be the first of many farms to put these remarkable tractors to work producing food and fuel for a growing world population."
Case IH is a global leader in agricultural equipment, committed to collaborating with its customers to develop the most powerful, productive, reliable equipment – designed to meet today's agricultural challenges. Challenges like feeding an expanding global population on less land, meeting ever-changing government regulations and managing input costs. With headquarters in the United States, Case IH has a network of dealers and distributors that operates in over 160 countries. Case IH provides agricultural equipment systems, flexible financial service offerings and parts and service support for professional farmers and commercial operators through a dedicated network of professional dealers and distributors. Productivity enhancing products include tractors; combines and harvesters; hay and forage equipment; tillage tools; planting and seeding systems; sprayers and applicators; site-specific farming tools and utility vehicles. Case IH is a brand of CNH (NYSE: CNH), a majority-owned subsidiary of Fiat Industrial.
###