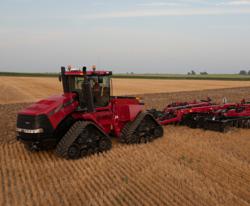 We wanted to give producers an opportunity to experience farming on a larger scale and the agronomic practices it takes to successfully achieve that larger scale.
Racine, Wis. (PRWEB) November 16, 2011
When you unite the world's largest, most powerful commercially built tractor and the largest pull-behind deep tillage implement, you get the Case IH Steiger Tiger Tour. The tour brought Case IH's biggest equipment to producers – the Steiger® 600 tractor and the Ecolo-Tiger® 870 disk ripper – while also educating them about the agronomics of working the soil.
Beginning in June, the tour crossed the Midwest with 24 different stops in Kentucky, Indiana, Illinois, Iowa, Minnesota, South Dakota, and North Dakota. The tour convoy crossed state forests and the Ohio River. More than 1,000 producers, representing more than 2.5 million acres of farmland, learned about efficient power operation and how to improve their soil profile.
"We wanted to give producers an opportunity to experience farming on a larger scale and the agronomic practices it takes to successfully achieve that larger scale," said Mitch Kaiser, Case IH Steiger Tractor Marketing Manager. "At Case IH, we want to help producers be ready to take farming to the next level by providing them with knowledge in addition to the equipment needed to get the job done."
At stations set up around a field, participants got to walk around Case IH equipment with one of 40 product specialists who assisted with the events. "I wanted to see what's improved in the new tractors," said Mark Rust of Loda, Ill., who farms 4,000 acres of corn and soybeans.
"It's hard to buy equipment without trying it out," said Todd Bohlman with Birkey's Case IH dealership in Bloomington, Ill. "On the Steiger Tiger Tour, there are only three or four people at each station, so you get more time with the equipment. You get the opportunity to experience the equipment working in the field."
One of the Steiger Tiger Tour demonstration stations was a soil pit where Case IH crop production experts demonstrated simple methods farmers can use to identify soil compaction levels using everyday tools like a shovel, a pocket knife, a five-gallon bucket, and a yardstick. Case IH experts also discussed how to cultivate soil for maximum crop growth and how last year's decomposing crop residue facilitates the growth cycle.
The Ecolo-Tiger 870, a 13-shank, 26-foot wide disk ripper, can help reduce compaction and promote healthy soil. The implement carries its tillage points under the compaction layer, breaking up soil with its lift, twist and roll motion. Crop residue is uniformly managed, compaction is controlled and the seedbed is prepared in only one pass across the field.
"The front disks of the Ecolo-Tiger mix the soil and the V-shaped edges of the shanks keep clods down and to the side, so you don't have any large holes," said Rob Zemenchik, Case IH Tillage Products Marketing Manager. "The point on the shank shatters the compaction layer and then the double edge rolling reel gives the soil a final finish, tucking residue into the soil."
Breaking up soil with the Ecolo-Tiger 870 allows more fertilizer to get to crop roots. Redistributing the compaction layer promotes a favorable soil-air-water balance, takes in more rainfall and keeps nutrients in place to foster faster young root development. Crops with more well-developed roots can better handle stressful periods later in the season, such as a drought. The Ecolo-Tiger 870 can be pulled at seven miles per hour, allowing producers to cover 22 acres per hour or more.
"The tractor has plenty of power," said Zeb Wyant, who farms 1,900 acres of corn and soybeans with business partner Cliff Armstrong. "It was an outstanding ride."
While many customers were interested in the Ecolo-Tiger, the Steiger 600 tractor, with its 669 maximum engine horsepower, headlined the show as it easily pulled the Ecolo-Tiger through last year's crop stubble. The Steiger 600 Quadtrac® configuration minimizes ground pressure, reduces compaction and improves traction.
"We drove the Quadtrac over waterways, but the ride was nice and smooth," said Armstrong.
"The first thing that jumped out and grabbed me was the unbelievable amount of horsepower," said Jason Lay of Bloomington, Ill., who farms 2,600 acres of corn and soybeans with his father. "I've never experienced anything like it."
The Steiger's Tier 4A-compliant engine with Selective Catalytic Reduction (SCR) technology offers producers efficient power with up to 10 percent average savings in fuel economy.
"I'm doing the same job with a lot less fuel," said Lay. "That's real money."
The Steiger 600 is the largest tractor in the Case IH Efficient Power family of products, which also includes Case IH Axial-Flow® 30 Series combines, Magnum™, Maxxum® and Puma® tractors and the Patriot® 4430 sprayer. Case IH Efficient Power equates to equipment and technology that is powerful, smart and simple.
"The shifting and ease of turning are a lot smoother. That's a lot of power under there," said Rust.
The suspended cab with a 40 degree swivel seat on the Steiger tractor was also a big hit with customers.
"The cab rides really smooth," noted Rust. "I was really impressed with how nicely it rode."
Although the power, smooth ride and fuel efficiency stood out with customers, farmers still want to know the best ways to maximize their land and seed investments.
"The next generation of equipment can help with that," said Zemenchik. "Case IH equipment can help them boost production and efficiency, and events like these are where customers can experience it themselves."
Case IH is a global leader in agricultural equipment, committed to collaborating with its customers to develop the most powerful, productive, reliable equipment – designed to meet today's agricultural challenges. Challenges like feeding an expanding global population on less land, meeting ever-changing government regulations and managing input costs. With headquarters in the United States, Case IH has a network of dealers and distributors that operates in over 160 countries. Case IH provides agricultural equipment systems, flexible financial service offerings and parts and service support for professional farmers and commercial operators through a dedicated network of professional dealers and distributors. Productivity enhancing products include tractors; combines and harvesters; hay and forage equipment; tillage tools; planting and seeding systems; sprayers and applicators; site-specific farming tools and utility vehicles. Case IH is a brand of CNH, a majority-owned subsidiary of Fiat Industrial S.p.A.
###