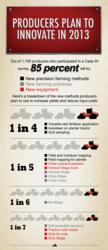 Innovative solutions and technology are how we're going to be able to create a better growing environment and positively impact the farm's bottom line.
Kansas City, Mo. (PRWEB) January 31, 2013
Producers will continue to embrace new farming practices in 2013, according to survey results presented at Ag Connect Expo & Summit (ACES) in Kansas City on Jan. 30. According to the survey, which was sponsored by Case IH, 85 percent of the 1,109 producer respondents are considering new cropping practices and technologies for this year's growing season. The results were revealed at an ACES presentation by Brian and Darren Hefty, co-hosts of RFD-TV's weekly Ag PhD program.
"These survey results are not surprising," says Brian, who operates Hefty Seed Co. and farms approximately 2,500 acres with Darren near Baltic, S.D. "Agriculture is driven by new technologies. Farmers face new challenges with each cropping year. It might be drought, flooding, new diseases or high fertilizer prices – it's a seemingly endless list. Innovative solutions and technology are how we're going to be able to create a better growing environment and positively impact the farm's bottom line."
"As one would expect, survey respondents are willing to try new technology that has the potential to increase yield or reduce input costs," adds Darren. "This is especially true for technology that can increase yields since it has the most impact on producer profitability."
Cover crops are the top farming practice that will be tried for the first time in 2013 with 24 percent of respondents planning to plant them. "We're seeing resurgence in cover crop use for multiple reasons," says Brian. "They can improve soil tilth, water infiltration, organic matter levels, and soil fertility, as well as reduce erosion and suppress weeds. Clearly, a single cover crop will not accomplish all of these benefits. Producers need to determine their goals as each potential benefit may require a different seeding program."
Another practice to improve soil health – vertical tillage – ranked as a close No. 2 with 23 percent of respondents planning to use a vertical-tillage tool to maintain conservation benefits of residue while making it more manageable at planting time.
"Vertical tillage prior to planting is becoming more popular every year," says Darren. "The need to manage corn stalks in a no-till system is one reason. Other reasons are to incorporate manure, lime or fertilizer into the soil, as well as conditioning the seedbed prior to planting."
Rounding out the top five new farming practices to be tried for the first time in 2013 were resuming deep tillage (22 percent), no-tillage (18 percent) and strip tillage (15 percent).
New precision farming tools will play a significant role in farming operations in 2013, especially during the planting season. Variable-rate fertilizer application will be used by 27 percent of survey respondents for the first time as a way to reduce production costs and increase yields. "Farmers are seeing additional profits with variable-rate fertilizer applications as they are able to increase grain yields without increasing total nutrient inputs," says Brian. "This is especially true with today's grain and fertilizer prices."
Autosteer on the planter tractor ranked as the second most popular precision farming method (25 percent) to ensure accuracy and increase productivity by being able to plant day or night in difficult visibility conditions. "This technology can improve efficiency without changing other management practices," says Darren. "Autosteer helps reduce planter overlaps and skips. Even small errors prove costly when all inputs such as seed, fertilizer, fuel and labor are considered."
Grid sampling tied with autosteer on the planter tractor as the second most popular precision farming method with 25 percent of survey respondents planning to use it for the first time in 2013. Rounding out the top five new precision farming methods are yield and moisture mapping (22 percent) and field mapping for the planter (22 percent).
Engineering advances are the norm for equipment manufacturers. "Farmers need to be more productive and efficient with their land," says Brian. "Manufacturers are responding to customer needs with not only bigger equipment, but more innovative equipment that is efficient and versatile."
Survey respondents' top new equipment pick is a perfect example of innovation and efficiency. Vertical tillage tools will be used by 23 percent of survey respondents for the first time in 2013.
"Farmers can pull these tools with less horsepower and at higher speeds, so they cover more acres per hour than they could with a disk or field cultivator," says Darren.
"Vertical tillage is proving its value for producers who want a smooth, even seed bed for spring planting without compromising erosion control," adds Brian. "It chops up residue, but does not bury it, which can help poorly drained soils dry more quickly. It's a fast, fuel efficient way to level the ground and improve the seed bed. It can also help warm up the soil profile more quickly in spring so farmers can get into fields a little earlier and plant into a well-prepared seedbed."
Tools to help farmers be more efficient also filled out the No. 2 and No. 3 spots with wider planters and seeders to be used by 20 percent of producers for the first time and self-propelled sprayers being used by 15 percent. Strip-till units (14 percent) and tractors with tracks (13 percent) complete the list of top five new equipment purchases in 2013.
Case IH is a global leader in agricultural equipment, committed to collaborating with its customers to develop the most powerful, productive, reliable equipment – designed to meet today's agricultural challenges. Challenges like feeding an expanding global population on less land, meeting ever-changing government regulations and managing input costs. With headquarters in the United States, Case IH has a network of dealers and distributors that operates in over 160 countries. Case IH provides agricultural equipment systems, flexible financial service offerings and parts and service support for professional farmers and commercial operators through a dedicated network of professional dealers and distributors. Productivity enhancing products include tractors; combines and harvesters; hay and forage equipment; tillage tools; planting and seeding systems; sprayers and applicators; site-specific farming tools and utility vehicles. Case IH is a brand of CNH (NYSE: CNH), a majority-owned subsidiary of Fiat Industrial S.p.A. (FI.MI).