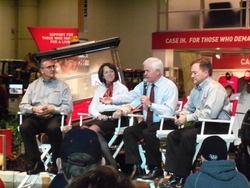 how we can be good stewards of the land, make the profit we need and achieve higher yields. How can I make sure the ground is still in great shape years down the road?
Racine, Wis. (PRWEB) February 11, 2010
Ask farmers what sustainability means, and you'll likely hear a wide range of opinions. At the recently concluded Ag Connect Expo in Orlando, Case IH convened a panel of experts to discuss how they define agricultural sustainability, and describe current and future sustainability solutions.
Moderated by Al Pell, the AgriBusiness Director for U.S. Farm Report and AgDay Television, the panel included: Rob Zemenchick, Ph.D., Agronomist and Case IH Tillage Marketing Manager; Cyndi Punke, Case IH Precision Farming Sales Manager; and John Bohnker, Case IH High Horsepower Tractor Marketing Manager.
During his introductory remarks, Pell said when it comes to sustainability, too often agriculture has been in the crosshairs when, "In fact, farmers are continuously finding new ways to supply the world's food, fiber and fuel needs with fewer resources."
Defining sustainability
Bohnker defined sustainability in both the short-term and long-term. "Short-term, we've got to make money today, so we can survive and do what we need to do. Long-term, it's about how we continue to grow more crops most efficiently, while improving the soil and protecting the environment."
Punke said sustainability is about "how we can be good stewards of the land, make the profit we need and achieve higher yields. How can I make sure the ground is still in great shape years down the road?"
According to Zemenchick, sustainability combines agronomic, environmental and economic aspects. "I think of it as an abundant, safe food supply that's produced profitability in an agronomically sound manner that's good for the environment," he said.
Sustainable profitability
Punke said precision farming is one key to improving profitability. "Whether it's guidance to reduce overlap, or section control and row shutoffs on planters to reduce seed and chemical use, there are a lot of different practices that affect us economically."
Bohnker pointed to increasing efficiency. "Whether you want to stay the same size or grow the operation, farmers need to get more done in less time. Time is money."
Zemenchick agreed. "That's why at Case IH, we demonstrate possible new sustainable practices and precision technologies in the field first. Our customers evaluate them to see if they're profitable and practical on the farm, not just in theory."
Pell asked what factors determine practicality. Zemenchick mentioned several: "In crop production, for technology to be practical it must be rugged, it has to hold up. It needs to help you be more productive than you were yesterday. And it has to be agronomically sound. Everything we do has to drive up yields.
"When we talk about new technology, we also have to look at what will be practical in the future," Zemenchick continued. "That's why we're looking into this biomass process for energy development. We've got to find more value on your farm that you can take to the marketplace and generate more revenue."
Practical, sustainable biofuels
Pell asked about corn ethanol, and whether that's sustainable. "We're not going to put all the food down gas tanks," Zemenchick said. "That's why we're looking at cellulosic ethanol, and using other feed and fodder crops."
Bohnker added that the genetics today are producing more residue. "As we increase yields from 150 to 200, 250 and up to 300 bushels - which is the goal over the next 20 years - there's a lot of residue that comes with that. If we take a little bit of that extra residue off the field and put it into energy, we're still going to return more residue back to the soil than we did five years ago."
Reducing CO2 levels
Zemenchick said there's a range of opportunities for farmers to produce ethanol and play a big role in carbon sequestration. "Research shows that since 1998, agriculture in North America has been a net carbon accumulator in our soils, not an emitter. We can actually accumulate between 200 and 700 pounds of carbon per acre in a typical Midwestern corn crop.
"We can continue to take advantage of higher yields to drive that - to capture more carbon and build soil organic matter, which will help us hold more moisture in the soil and drive yields to even higher levels," Zemenchick noted. "Agriculture will be part of the solution to the problem of elevated CO2 levels in the atmosphere."
Equipment that empowers producers
Punke said precision farming will continue to grow, as farmers find new ways to improve sustainability, agronomics and economics while lowering their environmental footprint. "Precision farming allows you to farm exactly the way you want to."
Pell noted that precision farming also allows farmers to do things they couldn't do before. "If you want to plant 24 hours a day, that machine will go 24 hours a day, and you still won't have any skips."
Bohnker added, "From the equipment side, if you look at a tractor, we also want to get efficient, clean power to the ground. That means getting it to the ground with less compaction, by using control patterns, spreading out the load and keeping our weight down. We also want to keep fuel consumption and pollutants down. With some of our new diesel technology at Case IH - particularly the Tier 4 engine - we're actually going to be cleaning the air."
More productivity, fewer inputs
Zemenchick said equipment productivity is part of sustainability, too. "We now have machines that can prepare a seedbed and manage stalks in one pass on 1,000 acres a day - using only half a gallon of fuel per acre. This is a fraction of what it used to take. Or take a technology like AIM Command with low pressure droplet size that can be managed independently of ground speed. We now have less off-target issues, and we're using more benign chemicals."
Punke noted that precision farming and variable rate applications help, too. "We can place chemical and fertilizer precisely where we need it, and drop seed in the areas that grow best."
Farmer-driven technology
"Back in 1995, displays could only handle yield monitoring and yield mapping," Punke explained. "Then eventually we got planter control and mapping, then guidance. We're always adding new precision technology opportunities based on what customers tell us they need."
Bohnker mentioned that Case IH recently added cameras, so growers can see around the back of their implements. "We're also looking at internet access in tractors, because some farmers want to check the markets while they're in the field," he added. "We build long-term relationships with farmers so we know what products, services and technologies are really going to help you be sustainable."
Zemenchick said Case IH is always looking for opportunities to work with growers to provide new value. "It wasn't that long ago we didn't have turbo blades and AIM Command. And who would have considered biomass harvesting out of the back of a combine? We used to call that trash. Now we have enzymes for cellulosic ethanol making it commercially viable to transform trash into energy."
###