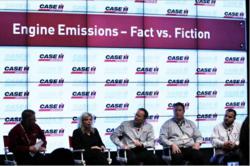 The SCR system treats these pollutants after they leave the engine, so the engine itself has no emissions components. They're tuned for power and performance.
Racine, Wis. (PRWEB) July 01, 2011
Brian Hefty, host of RFD-TV's Ag PhD and a South Dakota farmer, was in the market for a new high-horsepower tractor. Like many farmers, Hefty had a number of questions about the new Tier 4A-compliant engines mandated for 2011 production, including, "What are the options for meeting the government's emissions mandates?" and "How will the changes impact my bottom line?"
As the moderator for the Case IH BE READY Discussions on new engine emissions, Hefty got these and other questions answered by experts from across the agriculture industry and Case IH.
According to panelist Leo Bose, Case IH commercial training manager, farmers have two options for meeting Tier 4A emissions regulations – Selective Catalytic Reduction (SCR) or Exhaust Gas Recirculation (EGR): "With SCR technology, we're taking an extra urea component and injecting it into the exhaust stream after the combustion process to reduce nitrogen oxides," he said. "EGR technology brings exhaust gas back into the engine and uses a particulate filter to capture pollutants."
He explained that Case IH will employ SCR technology in high-horsepower equipment and EGR technology in low-horsepower tractors to meet new Tier 4A emissions mandates. "For Case IH, we took the approach of using EGR on the lower- horsepower tractors because, by nature, those tractors use less fuel. With SCR technology, farmers can get more power out of an engine because the engines are tuned to use all the Btu [British thermal unit] content that the fuel can deliver, thus improving performance and fuel economy, which is critical in high-horsepower applications."
Bose indicated that farmers can expect to save at least 10 percent owning and operating costs with SCR technology. "By not bringing dirty air back into the engine, the engine is able to maximize power and lower fuel usage. It also lengthens oil change intervals from about 300 hours to almost 600 hours, as seen in the Case IH Magnum™ and Steiger® tractors."
David Stark, Case IH commercial product trainer, added, "The problem when you build an engine for horsepower, especially high-horsepower diesel engines, is that it pollutes. The SCR system treats these pollutants after they leave the engine, so the engine itself has no emissions components. They're tuned for power and performance."
"The key to treating pollutants after they leave the engine is Diesel Exhaust Fluid, or DEF," Leo Bose explained. "DEF is injected into the exhaust stream after the combustion process to reduce or eliminate nitrogen oxides and particulate matter." Bose noted that only a relatively small amount of DEF is required. "If you burn 100 gallons of diesel fuel, you would use three to five gallons of DEF," he said. "Operators can maximize uptime because the DEF tank only needs to be filled every other fuel tank fill-up."
Reflecting on Europe's experience with SCR technology in the medium- to heavy-duty trucking industry since 2006, Manfred Pfleger, commercial training manager for Case IH International, said, "The SCR solution is the most common and the most efficient because you can really save fuel and really extend the uptime."
He continued that in comparing Tier 3 tractors and Tier 4 tractors with SCR technology, European tests showed obvious improvements in fuel savings, power, and productivity. He noted that SCR technology received accolades from European publications like, The Land and Forest Agriculture Magazine, which described SCR technology as "powerful and clean technology;" and Farmers Guide, which commented that SCR technology had "considerable fuel savings, as well as an increase in useable power." According to Pfleger, "SCR is absolutely the right solution, not just for Case IH. It is absolutely the right solution for you, for our customers."
Dawn Geske, editor-in-chief of Diesel Progress International, explained that Diesel Progress has been following the emissions mandates and the development of new emission technologies since the very beginning. "Engine manufacturers and OEMs really put a significant amount of investment and R&D [research and development] into meeting these requirements," said Geske. "They've been working on this for many years to make sure they're giving producers the best technology that meets these requirements."
To ensure that Case IH engines with SCR technology are indeed the best option for farmers, Enrique Guzman, director of the Fiat Powertrain Technologies Application Engineering Team, explained that Case IH and Fiat Powertrain Technologies engineers have conducted extensive testing in the field, in the labs and in various environments to make sure that this technology works properly. "We put vehicles through multiple seasons, multiple winters and summers just so that we can get that experience in the field and make sure that the engine and components are going to last producers 3,000, 5,000, and 10,000 hours."
Further remarks by Bose indicated that leading engineers believe that SCR technology will be the emissions technology going forward. "SCR technology affords the fuel savings and fuel economy that farmers are looking for, but also allows them maximum uptime in the fields to keep them running. Case IH wants to make sure your cost per acre is the lowest it can be."
SIDEBAR:
The Case IH BE READY Discussion Series took place at the 2011 Ag Connect Expo in Atlanta, Ga. If you missed this year's Ag Connect Expo, you can receive a Case IH Ag Connect Expo DVD featuring series recaps and behind-the-scenes video from BE READY presenters by completing a simple survey at CaseIH.com. Daily recap videos from Ag Connect Expo and the BE READY Discussion Series can also be viewed on the Case IH BE READY blog at CaseIH.com/beready.
Case IH is a global leader in agricultural equipment, committed to collaborating with its customers to develop the most powerful, productive, reliable equipment – designed to meet today's agricultural challenges. Challenges like feeding an expanding global population on less land, meeting ever-changing government regulations and managing input costs. With headquarters in the United States, Case IH has a network of dealers and distributors that operates in over 160 countries. Case IH provides agricultural equipment systems, flexible financial service offerings and parts and service support for professional farmers and commercial operators through a dedicated network of professional dealers and distributors. Productivity enhancing products include tractors; combines and harvesters; hay and forage equipment; tillage tools; planting and seeding systems; sprayers and applicators; site-specific farming tools and utility vehicles. Case IH is a brand of CNH (NYSE: CNH).
###