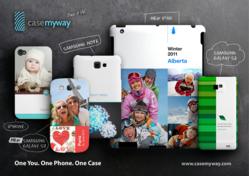 offering over 7 billion custom design permutations – more than the global population
Sarasota, Florida (PRWEB) July 31, 2012
According to recent research, by the end of 2012, the number of mobile devices will exceed the Earth's entire population.* By 2016, a staggering 10 billion mobile devices will be spread across the globe, immensely surpassing its estimated 7.3 billion people.* But despite the increasing number of phones, there seem to be very limited solutions available in the marketplace for an individual to personalize their smartphone or tablets; Billions of phones, yet they all look identical... until now! CaseMyWay is providing a new online eCommerce platform offering over 7 billion custom design permutations – more than the global population through their proprietary MT3 technology. No two phones need ever look the same again.
How? Completely customizable cases. CaseMyWay provides an online platform for mobile phone and tablet users to achieve complete customization of their protective cases by creating or uploading their own images, from memorable holiday snaps to original artwork, sporting moments to profile pics. Even Instagram, Flickr or Facebook images can be added. Thanks to this new service, consumers need never again be bored by the uninspiring "me too" case designs that cover the walls of mobile phone stores.
The beta version of CaseMyWay has just been launched and is already getting a lot of attention in the US and European markets. CaseMyWay beta caters for several market-leading devices – including the iPhone 4/4S, Samsung Galaxy S2, Samsung Galaxy Note, iPad 2 and the new iPad, and the world's first customizable case for the all new Samsung Galaxy S3, which has already reached sales of 10 million in its first two months worldwide**.
The full version of CaseMyWay is in final testing now and, when it launches in September, will offer many more features and products, including iPod and MacBook cases. Also coming is a royalty system to enable artists and designers to upload designs and receive royalties from sales of cases that carry their work. Partnership with leading global artists and designers will provide a range of pre-designed cases to complement the customizable options.
This major development in protective case design and printing comes about with CaseMyWay's proprietary 3D customization software. On CaseMyWay.com, users can upload images and play around with different designs in real time and in 3D, to see how their case will look. The design wraps the entire case, including the sides, thanks to the use of an advanced printing process: MT3. Giving a high-resolution finish with true 3D coverage, MT3 embeds ink directly into the case itself. It is not a surface sticker and will not peel off or scrape away with daily use.
The cases are slim, scratch resistant and provide tough protection. And, after full launch, CaseMyWay will be the first company to offer fully customizable cases in different materials such as leather, neoprene (soft) and even wood.
Manuj Bharti, founder and CEO of CaseMyWay Inc., comments: "CaseMyWay is the world's first company to create genuinely unique customizable cases for a whole range of smartphones and tablets, from brands including Apple, Blackberry, HTC and Samsung. Whatever look is wanted, we're on the case – literally! Thanks to CaseMyWay, each device becomes a visual stand-alone statement for its owner. No phone need ever again look like the phone next door."
He adds: "We're starting with the most popular brands but eventually we want to offer personalized cases in different materials for every handheld device in popular use."
About CaseMyWay:
CaseMyWay - founded in 2011, is a manufacturer of high quality customized smartphone and tablet cases for brands including Apple, Samsung, BlackBerry, HTC and others. Headquartered in Hong Kong, the company has production facilities in Asia and regional presence in North America, Asia and the UK.

Cisco's "Visual Networking Index (VNI) Global Mobile Data Traffic Forecast Update"
**http://www.trustedreviews.com/news/samsung-galaxy-s3-hits-10-million-sales
Company website: http://www.casemyway.com
Follow us on Twitter: @casemyway
Like us on Facebook: http://www.facebook.com/casemyway