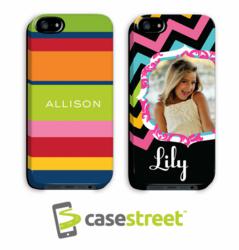 CaseStreet.com enables trend setting iPhone users a chance to channel their inner artist.
Birmingham, AL (PRWEB) November 14, 2012
Fashion iPhone case website CaseStreet.com announces immediate availability of personalized iPhone cases. CaseStreet.com is partnering with some of the best-known designers in stationery such as Stacy Claire Boyd, Modern Posh Design, Bonnie Marcus Collection and PicMe!Prints bringing the hottest trends in monograms, lettering styles, patterns, themes and vibrant color combinations to your most beloved accessory.
"The iPhone accessory business is an estimated 3 billion dollar industry," said Rick Peyton, founding member of CaseStreet.com, "and we are certain to disrupt the norm with our eye-catching, one-of-a-kind iPhone cases. They are truly unique."
CaseStreet.com enables trend setting iPhone users a chance to channel their inner artist. Using their intuitive customization tool each case has limitless options.
Designer styles and easy customization are not the only obvious selling points for the iPhone cases. Affordability is winning over customers too. At only $35 for their most popular case, orders are keeping CaseStreet.com busy.
"People go nuts for customized items because it offers a sense of pride as well as ownership," said Emily Flack, founding member of CaseStreet.com, "We have a personalized accessory that fuses fashion and function into one excitingly inexpensive case."
CaseStreet.com has found a win-win for style and strength with vivid designs and ultra-durable cases. "We are pleased to have partnered with one of the best names in case manufacturing," said Peyton.
Great as gifts, CaseStreet.com also offers themed iPhone cases catering toward college football junkies, Graduates, Brides-To-Be and Mothers-To-Be. A favorite of the case styles has proven to be those that accommodate photos. Carrying a photo laden iPhone case with children or pets is increasing in popularity.
And there's even more styles to choose from when ordering a simple name or monogram for birthdays, showers or just because.
In the future, CaseStreet.com hopes to offer a wide range of designer cases for other electronic items including the iPad, Nexus 7 and Kindle Fire.
For more information on personalized iPhone cases visit http://www.casestreet.com.