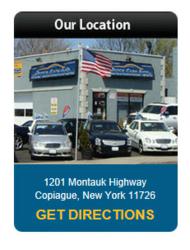 Being found online, quickly and easily makes all the difference in your bottom line
(Long Island, N.Y.) (PRWEB) November 03, 2012
Quick Cash Auto Inc., located on Long Island, has announced the recent acquisition of a new web domain, MrCashforCars.com. The acquisition follows a recent launch of eight new Quick Cash affiliated websites, re-designed to feature greater interactivity and faster quotes to consumers.
"The angle is Internet marketing. The cash for cars industry is seeing some of the most benefit from savvy shoppers with multiple options thanks to the Internet. As people scramble to beat trade-in prices often offered for used vehicles, being found online, quickly and easily makes all the difference in your bottom line. The investment into multiple domains to attract searchers online is a solid one. It's a strategic move to expand our growing presence and increase name recognition in automotive industry." said Brian Keegan, Chief Executive Officer of Long Island Auto Find Inc.
"Get cash for your car from the car cash service of Long Island New York. We buy cars of all makes and models. We exchange cars for cash right on the spot. We buy used cars, trucks, vans and SUV's. Sell your car for fast cash today. We've successfully weathered the economic downturn; an accomplishment I feel demonstrates we're a leader in the car buying industry. "Keegan added.
Quick Cash Auto Inc.
As one of the leading used-car purchasers on Long Island, Quick Cash Auto Inc. takes pride in buying quality pre-owned cars, trucks, and SUVs. Residents of Long Island looking to sell their used vehicles quickly and easily as well as beat trade-in offers can expect fast, knowledgeable service, professional quotes, fair prices, and the ability to walk off the same day with cash or credit towards the purchase of a new or used car.