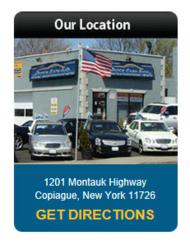 We've successfully weathered the economic downturn; an accomplishment that demonstrates our aggressive marketing effort has paid-off
Long Island, NY (PRWEB) May 13, 2013
Quick Cash Auto Inc., located on Long Island, has announced the acquisition of several top level internet domain names, one of which is LICashforCar.com. The acquisition follows a recent launch of eight new Quick Cash affiliated websites, re-designed to feature greater interactivity and faster quotes to consumers.
"The investment into multiple domain names to attract searchers online is a solid one. It's a strategic move to expand our growing presence and increase name recognition throughout Long Island, as well as the entire automotive industry." said Brian Keegan, Chief Executive Officer of Quick Cash Auto Inc.
The business also recently released the following geographical websites:
cashforcarnewyork.com
newyorkcashforcars.com
sellmycarlongisland.com
sellmycarnewyork.com
sellusedcarlongisland.com
sellusedcarnewyork.com
"We've successfully weathered the economic downturn; an accomplishment that demonstrates our aggressive marketing effort has paid-off. We're looking forward to continue what we have done here on Long Island, across the region, and soon beyond," Keegan added.
The reference identifies an intention by Keegan to expand its operation under a franchise opportunity allowing slowing car buyers to rebrand and operate under the Quick Cash Auto name.
For information on a franchise opportunity in your region, please call 1-800-592-1105.
Quick Cash Auto Inc.
As one of the leading used-car purchasers on Long Island, Quick Cash Auto Inc. takes pride in buying quality pre-owned cars, trucks, and SUVs. Residents of Long Island looking to sell their used vehicles quickly and easily as well as beat trade-in offers can expect fast, knowledgeable service, professional quotes, fair prices, and the ability to walk off the same day with cash or credit towards the purchase of a new or used car.