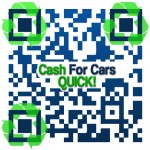 Turning cars into cash everyday in Dallas TX
Dallas, TX (PRWEB) May 28, 2012
The practice of selling off old and unusable cars has become extremely popular in Dallas over the last couple of months, particularly with their cash for trucks service. The recent emergence of Cash for Cars Quick in this region has played a role behind this significant change attitude of the car and truck owners. The company states since its cash for cars Dallas service launched earlier this year it has seen steady growth. Cash for Cars Quick boasts that their Dallas service for vehicle owners has been taking more and more of the market share away from their competitors. Because of the large volume of cars and trucks the company is adding new vendors to work with. The California based company provides junk car removal in Dallas service with the guarantee for maximum financial return irrespective of the condition of the car. The customers are not required to fill out any extensive paperwork or haggle over the price, the company stands by their offers. Find out more about the cash for junk cars Dallas provider by visiting http://cashforcarsdallas.cashforcarsquick.com/.
With a population of 1.1 million as per the 2010 census, Dallas is the ninth largest city in the country. Plenty of old cars are discarded by the users every year because it is never easy to live in a big city with a car that doesn't run properly or keeps breaking down. It is not that the concept of junk car removal for cash was unknown to Dallas TX. However, the company believes there were not too many customer friendly cash for cars Dallas service providers. Cash for Cars Quick purchases old vehicles for $150 to $650 dollars prices can be even higher for trucks and SUV's. Depending on the condition of the car or truck, and disposes them using all the latest techniques of automobile scrapping, recycling, and disposal. http://cashforcarsquick.com
Talking about the long term mission of the company, the CEO of Cash for Cars Quick William Leonard says, "These old cars are not only a headache for the owners, but are also harmful from the environmental point of view. The best part of the whole process is that you can get rid of your old junk car without it costing you anything and doing something good for the environment. Come to us, and let us built a better tomorrow for generations to come".
About the Company: Cashforcarsquick.com is a growing junk car recycling for cash company that provides high return to the car owners throughout the United States. The company follows environment friendly disposal practices to safeguard the future of the planet.
Contact:
William Leonard
Phone: 888-862-3001
Email: info(at)cashforcarsquick(dot)com