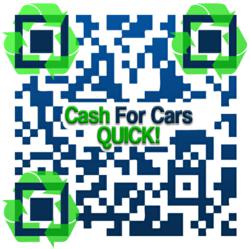 CashforCarsQuick.com is leading by example with its auto recycling service in San Antonio
San Antonio, Texas (PRWEB) June 19, 2012
Nation's leading cash for cars service provider Cash for Cars Quick has made a remarkable start in San Antonio, Texas. The company started offering their cash for junk cars San Antonio service so residents could use their environmentally responsible disposal and recycling service for discarded cars and trucks in the month of May. Within a very short time, the company has done exceedingly well to gain attention from the broken-down or wrecked car and truck owners in San Antonio. It may be recalled that the California based company now offers service throughout the nation, and has partnership with different auto recycle and auto salvage yard companies to ensure disposal service that is perfectly suited to preserve the natural environment. Find out all relevant details about cash for cars San Antonio service by visiting http://cashforcarssanantonio.cashforcarsquick.com/.
Talking about the response received by the company with it's cash for junk cars San Antonio service, the CEO of Cash for Cars Quick William Leonard stated, "It is extremely pleasing to see this response from the car owners in San Antonio. The number of calls received from car owners interested in disposing their old cars is increasing faster than we expected". However, he also added that "Unfortunately, there is no time to celebrate, because too much work is left to be done. It is never easy to undo years of damage in a few months". Talking about the future plans of the company, he mentioned that they would be soon making more use of internet based marketing platforms like social media, blogs, etc to popularize the concept of eco friendly disposal of old vehicles. The company firmly believes by using SEO professional services they will get the message out about how important auto recycling is. The amount of information shared across the internet can only help industries like Cash for Cars Quick that promotes a positive message about the reuse of auto parts and the proper disposal of hazardous materials.
The disposal service offered by the company includes comprehensive treatment of all hazardous materials like burnt engine oils, coolants, spent acids from batteries, etc. All these wastes can be extremely dangerous when they are released without proper treatment. The company offers up to $600 to the old car owners to sell their discarded vehicles. This high price guarantee has helped the company a great deal in reaching out to people who are not well aware of the consequences of irresponsible disposal of their old cars.
About the Company: Cashforcarsquick.com is a growing junk car recycling company that provides cash for cars to the vehicle owners in San Antonio and throughout the United States. The company follows environment friendly disposal practices to safeguard the future of the planet. For more information about the company visit them on the web http://cashforcarsquick.com
Contact:
William Leonard
Phone: 888-862-3001
Email: info(at)cashforcarsquick(dot)com