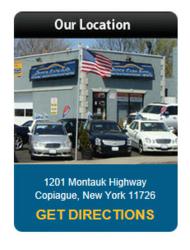 LICashforCars.com helps us better identify with our Long Island consumers as a business which understands the unique needs of Long Islanders
Long Island, NY (PRWEB) June 13, 2013
Quick Cash Auto Inc., located on Long Island, has announced the acquisition of an additional web address namely LICashforCar.com.
"The investment into multiple domain names are numerous. With this one, users can quickly identify that we are a Long Island based business servicing primarily the Long Island area. LICashforCars.com helps us better identify with our Long Island consumers as a business which understands the unique needs of Long Islanders." said Brian Keegan, Chief Executive Officer of Quick Cash Auto Inc.
"Our company invites anyone who would like to learn more information about our business, cash trade-in incentives or vehicles may also call us at 1-800-592-1105. Quick Cash is always available to help our customers so please feel free to reach out to us anytime." Keegan added.
Quick Cash Auto Inc.
As one of the leading used-car purchasers on Long Island, Quick Cash Auto Inc. takes pride in buying quality pre-owned cars, trucks, and SUVs. Residents of Long Island looking to sell their used vehicles quickly and easily as well as beat trade-in offers can expect fast, knowledgeable service, professional quotes, fair prices, and the ability to walk off the same day with cash or credit towards the purchase of a new or used car.