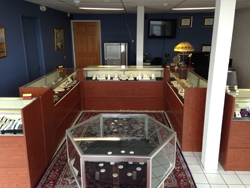 Blasdell, NY (PRWEB) April 25, 2013
Western New York Jewelry Exchange is proud to announce it has opened a store on 3231 Lakeshore Road, in Blasdell. WNY Jewelry Exchange is not a typical cash-for-gold store. They offer a diverse selection of gold, silver and diamonds, along with high-end watches and engagement rings.
At WNY, Jewelry Exchange they pride themselves on operating an honest business, and want to ensure customers are comfortable parting with their jewelry. Potential clients can trust WNY Jewelry Exchange with their gold, and customers can rest assure they will receive a fair-market price.
Diamonds are their best friend. As certified gemologists, the professionals at WNY Jewelry Exchange carefully examine every diamond they buy and sell so that they are confident customers are receiving a reasonable price. In the market for a quality engagement ring or some fine diamond jewelry for that special occasion? If so, consumers can trust WNY Jewelry Exchange to make sure they're in the right hands.
Rolex, Tiffany, Cartier, Audemars Piguet and Longines are just a few of the brands at WNY Jewelry Exchange. Don't waste time heading to the box jewelry stores or selecting fine jewelry online. Call 716-262-9170 or stop by WNY Jewelry Exchange today; they would be happy to assist with any jewelry purchase.
About the company:
A lot of jewelry stores claim to pay top dollar for gold, but how do customers know they've truly received a fair price? At WNY Jewelry exchange, they pride themselves on operating an honest business with their Cash for Gold policy, and want to ensure all clientele are comfortable parting with their jewelry.
In addition, WNY Jewelry Exchange makes house calls. If customers have a large selection of jewelry they would like appraised, or if they simply don't feel comfortable bringing their jewelry collection into the store, it's no problem. WNY Jewelry exchange will happily send a professionally-certified jewelry appraiser to a customer's home to carefully examine a jewelry collection. For more information, please call 716-262-9170 or visit http://www.wnyjewelryex.com.