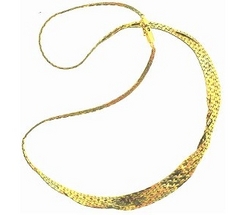 When I wanted to sell my gold... I wanted an idea of how much money to expect and the pennyweight prices offered."
Fort Lauderdale, FL (PRWEB) May 26, 2010
Consumers report the primary obstacle in selling unwanted gold jewelry is confusion about their gold's true value. Lack of knowledge about the weight of their gold and strange terms like "pennyweights (dwt)," "grams" and "troy ounces," confuse and intimidate many potential customers looking to sell their gold for cash.
In a telephone survey of 600 potential gold sellers who had signed up to sell their gold to GoldFellow® but never sent in their gold, 78% of the respondents acknowledged they were unsure of the value of their gold jewelry and other pieces.
Barbara Whitman of Seattle, WA said she ordered information from six different gold buyers only to trash all of them. When questioned by a GoldFellow® representative as to why she chose not to sell her gold, Whitman admitted her confusion.
"Honestly, when I wanted to sell my gold I felt dumb, but I said I wanted an idea of how much money to expect and the penny weight prices offered by gold buyers just added to my confusion."
According to Michael Gusky, president of GoldFellow®, "listening to the customer opened my eyes."
"Wow, I had assumed if we offered a great customer experience, significantly higher gold prices and free, insured FedEx® shipping that would be enough to win," said Gusky. "But, very often these customer benefits were overlooked because our gold pricing was misunderstood. Honestly, we've been communicating in the wrong language," realized Gusky.
GoldFellow® did more than listen and developed a real solution, launching the "Gold Payments Gallery" on its website.
"This new interactive tool is a virtual show and tell," said Mary Hamilton, a customer support manager who has worked for Gusky since 1987. "It gives people selling gold an opportunity to peruse hundreds of photos and see the actual dollar amount paid to an individual seller for that particular piece of gold jewelry. Our Gold Payments Gallery gives people a way to see and compare items they have at home to items which are similar - or possibly identical - to items GoldFellow® has already purchased."
Each photo, according to Hamilton, shows the total cash paid for the gold item along with the karat and actual weight of the gold in both pennyweight and gram units. In addition, the current gold price can be found daily, in real time, on the Goldfellow® website.
'We have taken the mystery out of gold selling – it's entertaining and educational," added Gusky who is very proud of GoldFellow®'s latest innovation. "We listened and took action," said Gusky. "As consumer advocates, we are always looking for innovative ways to provide valuable information, giving people greater power to make intelligent financial decisions."
Michael Gusky began his gold industry career in 1977. His fine jewelry company became the largest supplier of gold to America's retailers and was sold to Warren Buffett's Berkshire-Hathaway in July 2007.
###