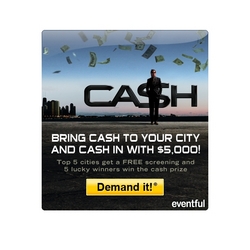 Moviegoers can log on to http://eventful.com/cashfilm to Demand CA$H in their city and enter to win $2,500.
San Diego, CA, and Los Angeles, CA (PRWEB) February 4, 2010
Eventful, Inc. the leading digital service connecting fans with entertainment and local events, and Roadside Attractions today announced that moviegoers nationwide can bring a free screening of CA$H to their city and enter to win a prize of $2,500. Fans can Demand CA$H in their city through Eventful's Demand it! service, and the top five cities who Demand it! the most get a free screening. One person in each of the five cities will cash in with a $2,500 prize. The city in first place will receive a special appearance by a CA$H cast member at the screening. Moviegoers can log on to http://eventful.com/cashfilm to Demand CA$H in their city and enter to win $2,500.
CA$H, written and directed by Stephen Milburn Anderson (South Central), features electric performances by Sean Bean (Lord of the Rings, Percy Jackson & the Olympians) and hot newcomers Chris Hemsworth (Star Trek, and the upcoming Thor) and Victoria Profeta (Push, The Drew Carey Show). The film, produced by Naveen Chathappuram of Immortal Thoughts with Prema Thekkek serving as Executive Producer, follows a young couple on an adventure of a lifetime through the streets of Chicago.
A stroke of good luck – finding a suitcase full of cash -- turns lethal for Sam Phelan (Hemsworth) and his wife Leslie (Profeta). The money fulfills their fantasies, but also brings strange and sinister Pyke Kubic (Bean) to their doorstep. Pyke leads Sam and Leslie on a frenetic and violent crime spree, forcing them to play by his twisted rules. But Sam and Leslie quickly learn to play the game. They teach Pyke that payback is a bitch for everyone when it comes to cash.
"This is our second time working with Eventful and we've been really impressed with their site," said Roadside Co-President Eric d'Arbeloff. "Their enormous user base has proven interest in attending events. They are an excellent launching pad for theatrical films."
"We're excited to work with Roadside Attractions to give people the opportunity to bring a free screening of CA$H to their city and to provide a $2,500 prize in each of the winning cities during these tough economic times," said Eventful CEO Jordan Glazier. "We love helping people discover, demand, and share a wide variety of events ranging from music concerts and film releases to art gallery openings and wine tastings."
"We couldn't title a film CA$H without some real cash involved," said Thekkek. "In these economic times, we wanted a creative way to reach out to the audience. Eventful was the perfect method of doing so while bringing in one of the themes prevalent in CA$H, the economy."
Eventful is the leading digital social media service which connects consumers with entertainment, live events and performers. Along with Facebook, MySpace and YouTube, Eventful is an essential part of the digital connection between fans and performers and a key marketing resource for the music, film and entertainment industries. Nearly 14 million people rely on Eventful's online, email and mobile services every week to discover what's happening in their local market and decide what to do. Eventful's unique Demand it! service empowers fans to influence the location and content of events and entertainment.
About Eventful, Inc.
San Diego-based Eventful, Inc. provides the leading service for discovering, sharing, promoting and creating local events throughout the world. Eventful's community of users enjoys the world's largest selection of local events, from concerts and sports to singles events and kids' activities. Eventful provides multi-platform services to its users via http://www.eventful.com, e-mail programs, mobile applications and content distributed through widgets and apps. Eventful's unique Demand it! service empowers consumers to influence the location and content of events and entertainment including concerts, movie releases and broadcast radio and television content. Tens of thousands of performers use Eventful Demand to connect with their fans and determine where to tour. Visit Eventful at http://www.eventful.com.
About Roadside Attractions
Roadside Attractions, founded in 2004 by Howard Cohen and Eric d'Arbeloff, is an independent film distribution company known for its specialized theatrical successes. Most recent releases include Academy Award® nominated documentary THE COVE, R.J. Cutler's behind-the-scenes look at Anna Wintour and the making of Vogue in THE SEPTEMBER ISSUE, and Chris Rock's hilarious examination of African-American hair issues, GOOD HAIR. Upcoming releases include THE JONESES starring Demi Moore and David Duchovny, Mitchell Lichtenstein's HAPPY TEARS and Julio DePietro's THE GOOD GUY. Among Roadside's previous releases are the popular documentaries SUPER SIZE ME and WHAT THE BLEEP DO WE KNOW?, two dramas embraced by faith audiences, AMAZING GRACE and BELLA, a trio of older-audience favorites: LADIES IN LAVENDER, STARTING OUT IN THE EVENING and BOYNTON BEACH CLUB, and provocative award winners like GOODBYE SOLO, THE ROAD TO GUANTANAMO and THE STONING OF SORAYA M.
CONTACT
For Eventful:
Catherine Lieu
(858) 461-3769
Cat(at)eventful(dot)com
# # #