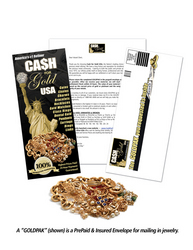 We're up to our elbows in gold jewelry right now
Sharon, MA (PRWEB) March 20, 2008
The record-breaking gold boom drastically accelerates growth of a clever new company that offers cash to consumers looking to sell gold and silver online.
CashForGoldUSA.com is an innovative new website that promises to purchase used, unwanted or broken gold jewelry and silver material from the public at a higher price than any of its competitors – "Guaranteed."
The company's simple "1-2-3 Easy Steps" formula may be the reason that CashForGoldUSA.com has seen its most recent revenues inflate by more than 700% from the previous quarter, while showing continued signs of growth. Their streamlined process makes it effortless for Americans in all 50 states to get quick cash for their material – especially those living in rural areas.
"We're up to our elbows in gold jewelry right now," says Norm Schneider, President of CashForGoldUSA.com. "People from all over the country are looking for a way to cash in on all their unwanted gold jewelry.... Our program couldn't make doing that any easier."
Consumers simply request a "FREE GOLDPAK" (a pre-paid, secured and insured envelope) by calling 1-888-GOLD-808 (465-3808) or by visiting the website http://www.CashForGoldUSA.com and filling out a Request Form. The GOLDPAK is used to mail in the gold material.
Within 24 hours of receiving your GOLDPAK, a check will be in the mail, on its way to your preferred address. CashForGoldUSA.com also offers electronic payments through PayPal for consumers who need cash the same day and they have a Spanish version of their website for Spanish-speaking consumers EfectivoPorOro.com.
But Gold isn't the only thing these guys are after. They recently launched an affiliate program, http://www.CashForSilverUSA.com that offers cash to consumers looking to sell unwanted silver items such as Sterling Silver Jewelry, Silver Bars, Sterling Silver Flatware and Serving Pieces, and anything else bearing the silver hallmark.
Norm Schneider came up with the concept for CashForSilverUSA.com after visiting his ninety-three-year-old mother and finding sterling silver flatware and serving sets worth over $600.00 buried in her pantry.
For additional information regarding the Cash For Gold USA program or to request a FREE GOLDPAK in order to sell your used, unwanted or broken gold jewelry visit http://www.CashForGoldUSA.com or call 1-888-465-3808. If you would like to learn more about Cash For Silver USA or Cash For Gold USA visit http://www.CJEnvironmental.com.
About CashForGoldUSA.com & CashForSilverUSA.com
CashForGoldUSA.com and CashForSilverUSA.com are both public programs funded by CJ Environmental, Inc. Their services include Precious Metal Scrap Refining, Electronic Scrap Refining as well as Dental Scrap Refining.
Contact:
Henry Miller
Director of Public Relations
Cash For Gold USA – Cash For Silver USA
866-784-2238
http://www.cjenvironmental.com
http://www.cashforgoldusa.com
efectivopororo.com
cashforsilverusa.com
cashfordentalscrap.com
###