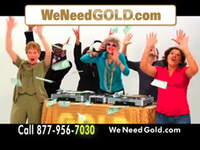 Many of our customers are so surprised and excited at the amount they receive for their gold, they return with additional items and refer their friends and family
Blue Springs, MO (PRWEB) March 18, 2009
A recent comparison where identical pieces of gold jewelry were sent to 5 nationally recognized gold buying companies found that WeNeedGold.com paid up to 3x more for the same item. Eric Moore, co-founder of WeNeedGold.com, was very pleased with the results, saying, "Every dollar counts to our customers and we have always believed in offering people a great price for their gold, silver and platinum." The comparison also found that of the gold buying companies that were tested, only WeNeedGold.com provided customers the opportunity to approve or reject the settlement offer as standard procedure before the payment was sent, even when being paid by direct deposit. When asked why that was important, Moore commented, "Unfortunately, a lot of these big name gold buyers pay only pennies and then make it extremely difficult for you to recover your items. One of the tricks they use is to offer direct deposit, but only if you give up your right to reject their offer. Why would you sell your gold to a company like that?"
Consumers have found that old broken jewelry and unwanted gold can be a great source of revenue and generate needed cash in tough economic times. Gold prices are reaching record highs so even a little gold can add up to big profit for consumers in need. "Many of our customers are so surprised and excited at the amount they receive for their gold, they return with additional items and refer their friends and family," responded Moore. Companies offering cash for gold are springing up all over so buyers need to do their homework when deciding who to send their items to. As the comparison shows, not all gold buyers are the same. WeNeedGold.com paid up to 3x more than the other companies and that's a big difference when you need money to pay bills or money for college.
For additional information regarding the comparison or to request a FREE Gold Pac-It to learn more about WeNeedGold.com, visit WeNeedGold.com or call 1-913-956-7030. WeNeedGold.com buys gold, silver and platinum items in any condition including chains, charms, bracelets, rings, dental gold, sterling silver of all kinds and gold coins and silver coins. For additional company information contact Eric Moore at 913-956-7030.
About WeNeedGold.com
WeNeedGold.com is a division of Rarities Exchange, LLC located in Blue Springs, Mo. Rarities Exchange deals in scrap-gold, scrap-silver, precious metal refining and buys and sells collections of all kinds direct from consumers. Services include internet buying of scrap gold, silver and platinum as well as gold buying and collectible buying events at hotels.
###