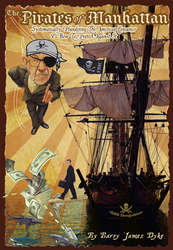 Arthur Williams and Primerica: An Inconvenient Truth
Portsmouth, NH (PRWEB) October 7, 2008
Author Barry J. Dyke, in the new book "The Pirates of Manhattan", unveils a major banking secret. Banks, when it comes to investing their own money--don't put their cash into volatile mutual funds, stocks, hedge funds, term life insurance or risky real estate deals--but instead place a large portion of their vital reserves, known as Tier One Capital, into high cash value life insurance.
Banks invest billions into high cash value life insurance. Surprisingly, many banks have more invested in life insurance policies than they do in bank premises, fixed assets and all other real estate assets combined. Recent bank consolidations of Bank of America (acquired Merrill Lynch) and J.P. Morgan Chase (acquired Washington Mutual WAMU) has made life insurance a more important asset for banks. In light of this consolidation, Mr. Dyke compiled an updated list of bank holdings in life insurance versus bank hard assets (premises, fixed assets and other real estate). Values quoted reflect the cash surrender value (CVS)-balance sheet equity of the life insurance to the bank. The life insurance benefit to the bank is roughly five times the cash surrender value (CSV).
Banks buy cash-value life insurance to improve their income statement and strengthen their balance sheet. With life insurance, banks enjoy tax-deferral (unlike taxable assets) and receive large income tax-free life insurance benefits at death of a bank employee. As investment stewards, life insurance companies are safer and more dependable than banks because they are not highly leveraged. And, as risk managers and fiduciaries, life companies have exemplary track records in preserving principal and managing money conservatively over long periods. Finally banks use life insurance as an economic power tool to design and fund executive pensions as well as other employee benefits such as life, health, disability and severance pay.
On "The Pirates of Manhattan" website, a video documents a major contradiction about life insurance purchases within the universal banking giant Citigroup. A major Citigroup subsidiary, Primerica, preaches that all consumers should buy term life insurance and invest the difference in mutual funds 100% of the time. However, Citigroup owns more that $4 billion in high cash value life insurance, the very product the Primerica subsidiary disdains. (YouTube: "Arthur Williams and Primerica: An Inconvenient Truth," http://www.thepiratesofmanhattan.com/youtubebroadcast.htm).
Ironically, Federal Reserve Chairman Ben Bernanke, the banking industry's greatest advocate and ally, has a majority of his personal savings not with a bank or mutual fund securities, but with a life insurance company in fixed and variable annuities. (YouTube: "Where Does Helicopter Ben Put His Money?"
http://www.thepiratesofmanhattan.com/youtubebroadcast.htm).
Over twenty-five years, author Barry J. Dyke has acquired extensive expertise to write "The Pirates of Manhattan." He has practiced financial planning, owned a pension consulting firm, founded a third-party administration firm, a health & welfare consultancy and a registered investment advisor http://www.castleassetmgmt.com.
The book has taken a novel approach by selling directly wealth advisors and consumers. It has sold in all 50 states, England, Europe, Australia, Singapore and Canada. To order go to http://www.thepiratesofmanhattan.com. For additional information, including press review copies, you may contact the author at barry @ thepiratesofmanhattan.com], telephone 800-335-5013. Castle Asset Management, LLC, 2 King's Highway, P.O.B. 95, Hampton, NH 03843-0095.
To view the table of banks' ownership of life insurance, see the attached document.
BARRY JAMES DYKE is the president of Castle Asset Management, LLC, Hampton, New Hampshire. He entered the financial service business in 1982 and has worked with individuals, privately held businesses, venture capital firms, publicly traded companies and national celebrities.
# # #