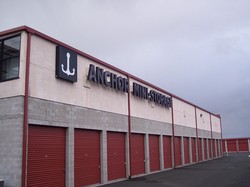 We are finally seeing some price discovery in this market
Santa Rosa, CA (PRWEB) April 10, 2009
Equity Based Services, Inc.("EBS") announces the acquisition of Anchor Mini Storage in the Santa Rosa area of northern California. Anchor Mini Storage will be rebranded under EBS' corporate brand of American Mini Storage.
Anchor Mini Storage at 220 Business Park Drive in Rohnert Park, CA adds 525 climate and non-climate controlled units and 66,810 Net Rentable Square Feet of storage space. This brings the EBS portfolio of 60 Self Storage Properties up to a total of 33,156 Units and 4,137,887 NRSF of storage space.
This is EBS' second property in California and the first acquisition in northern California.
Anchor Mini Storage is a Class-A stabilized facility that was purchased at a discount due to a motivated seller. According to Charles "Chico" LeClaire, Senior Vice President of Marcus and Millichap National Self Storage Group, the property was originally under contract with a large public operator. This operator was given a mandate by their investment committee to only purchase properties that were either in foreclosure, or, to purchase Notes on Self Storage assets. At the time, they had Anchor Mini Storage under contract as their sole property that didn't meet the troubled asset criteria and they made the decision to let it fall out of contract. The operator had this property under contract for a significantly higher purchase price than the final sales price of $5.3 Million.
"Anchor Mini Storage is a great addition to our portfolio" states Troy Downing, Principal, Equity Based Services, Inc. "This was a high-end Class-A build out in a strong local economy. Anchor is near Sonoma State University and right off of Hwy 101. This is very near Sonoma and we are considering adding a wine storage facility. There is also room for expansion and approved plans for an additional 2-story building that adds the potential to significantly add value to this property. There are also plans to build a Casino immediately behind the facility that could potentially make this a "home-run" acquisition. Independent of possible expansions and the casino project, this project is expected to have very strong cash flow right out of the box, with a "added value" type return upon liquidation or repositioning."
"Anchor Mini Storage was an excellent transaction for both buyer and seller considering the trying market that we are presently in" states LeClaire.
Anchor Mini Storage was financed through a local lender Circle Bank in Novato, California. "We have been diligently navigating the lending markets", states Downing, "in the past three years we have gone from placing conduit (CMBS) loans on properties from Wall Street banks, to getting loans from large Debt Funds and Mutual Funds, to International Banks, to Regional Banks, and now Local Banks. We have found that even though there are slight differences in culture between Wall Street and Main Street, local banks are still viable and still have reasonable terms for Commercial Real Estate transactions."
EBS was able to finance 65% of the purchase price with a 15 year loan that is interest-only for the first 5 years and then amortized for the remaining 10 years with a 25 year amortization. "The 5 year interest-only period of this loan allows us to maintain very strong cash flow which is very attractive to our investors" states Downing
The loan was facilitated through Tavernier Capital Partners in Boca Raton, Florida. "This transaction is evidence that even in the current credit crunch, favorable financing is available for well capitalized experienced owner operators", states Saul Hoppenstein, Principal of Tavernier Capital Partners. "We were able to secure an attractive fixed rate loan with five years of interest-only payments which will significantly enhance the returns for EBS."
"I consider this the Self Storage "market making" transaction of 2009." States Stephen Kaplan, CEO, Equity Based Services, "Prior to this EBS acquisition, Buyers, Sellers and Lenders were out of sync. Sellers' expectation of sales prices were disproportionately high compared to Buyers' perceptions of risk and Lenders' pricing of debt and terms. In short, no one was sure where Class "A" stabilized property should trade. This leveraged, arms length transaction between a sophisticated Seller, Buyer, and Lender establishes the market."
"We are finally seeing some price discovery in this market" adds Downing "We look forward to closing many more transactions this year."
About Equity Based Services, Inc
EBS is a Private Real Estate Company specializing in the acquisition and management of self-storage property. EBS currently owns and operates approximately 60 Self-Storage properties in 11 states with a current market value of more than $300 Million. EBS also manages a family of Private Equity Funds for institutional and high net worth individual investors. The EBS Income Fund, the EBS Income and Growth Fund II, and the Pilot Equity Value Added Fund all closed in 2007. For more information, contact Kurt Ambrosius at 619-220-6700.
This Press Release is for informational purposes only and does not, in any way, constitute an offering to buy or sell securities.
###