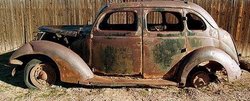 Kars4Kids is a respected, classified 501(c)(3) charity organization that gives car donors the maximum charity donation receipt allowed by law
Lakewood, NJ (PRWEB) August 4, 2009
While the U.S. government's popular "Cash for Clunkers" program was designed to help auto makers by giving owners of old cars incentives toward the purchase of new, fuel-efficient vehicles, it may not have been the best deal for car owners.
Either way, the program seems to be out of money. But Kars4Kids, the national car donation program, continues to offer an attractive tax incentive to owners looking to get rid of their older cars.
"Kars4Kids is a respected, classified 501(c)(3) charity organization that gives car donors the maximum charity donation receipt allowed by law," said Clifford Meth, VP Communications for Kars4Kids. "We additionally offer free towing as well as vacation voucher incentives that people have recognized for years as attractive reasons to donate their cars to us." The Kars4Kids website presents a Donors Guide to Car Donations that details how to get the best tax usage of your vehicle.
Kars4Kids even accepts vehicles that are no longer running and towing is free. For more information, call 1-877-Kars4Kids (1-877-527-7454) or visit http://www.kars4kids.org/ .
###