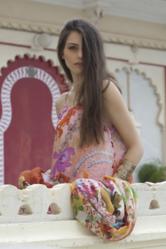 Fashion is a bridge to all communities, and community-building is at the heart of what we do
San Francisco, CA (PRWEB) March 28, 2012
Pashma Cashmere, specializing in cashmere, silk dresses and other fine designer clothes, will be exhibiting its summer collection at San Francisco's only quarterly runway fashion show on Friday, March 30 at the Hotel Whitcomb, 1231 Market St. (at 8th Street). Admission is free, but donations are encouraged and will be presented to The Harvey B. Milk Foundation, a non-profit (501C3), international civil rights organization.
Runway Couturier's Executive Producer, Fritz Lambandrake, will showcase exciting fashion collections by international designers Pashma and T Fabiano, as well as Bay Area designers Zoe Bikini, F.O.B., and jewelers Sikara & Co. and Stella & Dot. "RUNWAY" will be attended by a mix of people from all walks of life, including a very special surprise guest appearance. Complimentary signature cocktails and hors' d'oeuvres will be served.
Pashma Cashmere provides the best cashmere shawls and cashmere sweaters one can find in the San Francisco area. The fashion designer will prominently feature the "Petanu," which consists of a range of scarves, dresses, contemporized tunics, kaftans and tops in a range of colors and graphics that range from bold monochromes to vibrant pop colors such as lime, electric blue and fuchsia in luxe summer fabrics that consist primarily of cashmere, fine silks and linens.
Presenting a contemporized spirit of William Shakespeare's "A Midsummer Night's Dream," the collection presents a breathtaking spectacle of bright fabrics and feminine lightweight fabrics that allow one to escape the unnatural uncertainties of their lives.
The Petanu by Pashma collection has already been presented internationally and has received a thunderous response from top stores in Europe and Japan. It has also been presented in India at the Wills Lifestyle India Fashion Week at a runway show on October 11, 2011.
F.O.B. designer Huab Vue Fief will present two complete juniors' collections: one for the after-dark girl on the go, ready for adventure and one celebrating the happy, kaleidoscopic textiles of her ancestral Mung culture, reinventing color and pattern to create the unapologetic wardrobe of decidedly confident youth.
A lifelong resident of San Francisco, designer Zoe Magee will show her latest Zoe Bikini swimwear collection for women, and designer Fabiano Moraes will show this season's swimsuit cuts for men from his T Fabiano line, drawing inspiration from his Brazilian roots and flavor from his home in South Beach-Miami.
Jewelry designer Mousumi Shaw of Sikara & Co. will showcase "Modern Fusion Jewelry," a reflection of Mousumi's life as a first generation Indian-American. Sikara's sterling silver jewelry collection is elegant, powerful and a fusion of style.
Pashma Cashmere is located at 29 Maiden Lane in San Francisco and can be reached at 415-854-0532 or http://www.pashmausa.com.
About Pashma Cashmere
Enjoy the finest cashmere garments and designs from Pashma in San Francisco. Pashma was born from an obsession for the most outstanding textile art forms available. The company has slowly evolved from one small workshop to a leading, international clothing designer, manufacturer, and retailer of luxury knitwear. From Silk Dresses to Cashmere Shawls, the entire line of luxury garments is designed to make one look and feel great.
About Runway Couturier
Headquartered in San Francisco, Runway Couturier, LLC is a fashion-ONLY event producer, with a community-oriented mission: to promote local and regional fashion designers and retailers, reinvigorate the city's downtown area, and unite its many geographic, ethnic, and socioeconomically diverse communities. Says Executive Producer Fritz Lambandrake, "Fashion is a bridge to all communities, and community-building is at the heart of what we do. San Francisco's downtown area needs a shot in the arm. Our monthly runway show will deliver just that."