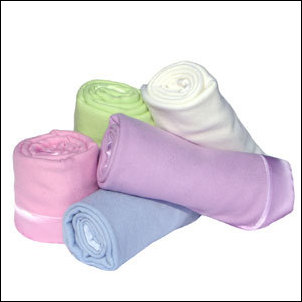 Humble, TX (PRWEB) April 10, 2007
The Pashmina Store, a Texas-based online retailer, announced that it will make cashmere baby blankets available to its customers. The store is known for being price-savvy and expects the blankets to sell well in the booming infant clothing/accessory market.
The 3-ply cashmere baby blankets are handmade in Nepal exclusively for The Pashmina Store and are the same quality as the scarves and wraps for with the store is known. The $59 price point makes them affordable; cashmere baby blankets retail in stores for $200.00 and up.
The blankets are 36" by 36" in size and available in seven colors: pink, blue, yellow, light green, natural, lavender and emerald green. The Pashmina Store suggests dry cleaning the blankets but states it's safe to hand wash them.
The Pashmina Store is a Texas-based online retailer that carries pashmina, pashmina/silk blend and cashmere scarves, wraps, shawls and blankets. The company is known for its consumer-friendly price points and the quality of its merchandise. For more information, log on to http://www.ThePashminaStore.com.
Media contact:
Carolyn Warning
The Winning Pitch
650-799-4359
###