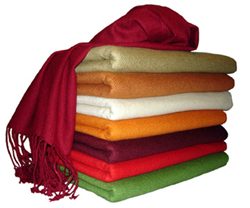 Layering on a pure cashmere pashmina with our on-trend looks is the best way to update your fall wardrobe for less
(PRWEB) September 23, 2016
The Pashmina Store, one of the largest online retailers of luxurious cashmere pashminas at value prices, today announced a special discount celebrating the arrival of fall. The "Cozy Up for Fall" cashmere savings event makes it easy for fashionistas to add soft, luxe layers this season with a wide collection pure cashmere pashmina shawls and other accessories at 10% off the regular low prices. Online shoppers can enjoy the discount on everything in the store, located at http://www.thepashminastore.com, by entering "COZY" during checkout. This special offer is good through October 10, 2016.

Show your animal side with The Pashmina Store's hottest cashmere pashmina animal prints such as zebra, leopard, cheetah, python and tiger print scarves and wraps in more than 13 colors.
Classic plain weave, twill weave and basket weave styles add texture and interest to the popular ensembles this season.
Knit cashmere hats, gloves, scarves and socks in a variety of colors are a smart way to keep you cozy from head to toe.
"Layering on a pure cashmere pashmina with our on-trend looks is the best way to update your fall wardrobe for less," said Blair Rhodes, co-owner of The Pashmina Store. "We look forward to re-introducing several winter lines, such as our cashmere tubes and leggings as soon as things get even cooler."
About The Pashmina Store
Since 2001, The Pashmina Store, http://www.thepashminastore.com, has been proud to offer the finest quality pure pashmina and pashmina / silk blend shawls, wraps, scarves and cashmere blankets. Customers enjoy the entire experience with quality products at exceptional values, free standard shipping in the U.S from Texas, and a satisfaction guarantee.