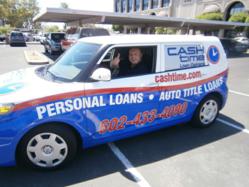 The first daily caller with the correct vehicle location will win $98.00 cash and be "Rollin' in the Dough!"
Phoenix, AZ (PRWEB) June 22, 2012
Cash Time Loan Centers, a locally owned and operated business with over 20 locations in Arizona, and Power 98.3 KKFR-FM, a local Arizona radio station, have partnered to promote a cash giveaway – "Rollin' in the Dough Cash Contest." The cash contest started Monday, June 18, 2012 and will run weekdays until Friday, July 13, 2012 offering Power 98.3 radio listeners the opportunity to win $98.00 cash.
The Cash Time Loan Centers' branded company vehicle will be rolling around the Phoenix area with the promotion running Monday through Friday for the next four weeks. Every afternoon, during the twelve o'clock Power Lunch Hour, Power 98.3 mid-day on-air radio personality Chris Chavez will be giving away clues to listeners as to the whereabouts of the Cash Time vehicle for that day. Listeners are instructed to call (602) 433-4093 upon spotting the vehicle. The first daily caller with the correct vehicle location will win $98.00 cash and be "Rollin' in the Dough!"
KKFR-FM, KVIB-FM and KEXX-FM are all locally operated under the name Riviera Broadcasting, LLC. KKFR-FM/Power 98.3 offers R&B and Hip-Hop music and is in the top five radio stations among 18 to 34 year old listeners in the Phoenix market.
For more information on the "Rollin' in the Dough" cash contest visit http://www.power983fm.com/RollinInTheDough.aspx.
About Cash Time Loan Centers
Cash Time Loan Centers has been serving Arizona residents with Cash Loans since 1997. They are locally owned and operated with headquarters in Scottsdale, AZ. Cash Time offers Personal Loans and Auto Title Loans with approval in just minutes from over 20 Arizona locations. For more information on loan products, visit http://www.cashtime.com or call (602) 433-4090.