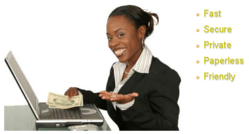 For homeowners and vehicle owners looking for quick cash to cover an emergency cost, payday loans are a simple solution.
(PRWEB) September 29, 2011
CashWire.com, an online payday loan provider, is helping to ensure people can cover an unexpected home or car repair without worry.
With so many opportunities for an unexpected emergency each day, almost everyone will need to come up with instant cash at some point. Because of this, savings accounts could be drawn from, and vacation funds could be depleted. Unfortunately for some, this instant cash isn't something that is easily accessible, and they need a bit of help when the unexpected happens.
For homeowners and vehicle owners looking for quick cash to cover an emergency cost, payday loans are a simple solution. These loans are a way to borrow money, with a short turnaround time for repayment - such as on the next payday. They are an easy and efficient way to get cash when it is most needed.
Payday loans can be used for any home or car emergency situation, including:

Leaky roof - Before the winter season hits, leaky roofs need to be taken care of. And in order to keep mold away, all water leaks should be fixed as soon as possible.
Busted car windows - It's never fun to have a car be vandalized. Replacing car windows can be an unexpected expense, and borrowers can easily get the cash they need to fix their windows right away.
Broken water heater - Not only could cold showers and cold water laundry make homeowners uncomfortable, but some rely on their hot water heater to heat their entire house. If a water heater breaks, the cash needed to fix or replace it can be invaluable, especially during the winter months.
CashWire.com is a matching service which places borrowers with the most appropriate payday loan lender to fit their needs, rather than being a traditional provider of online payday loans. With an easy online application process that requires no paperwork and takes only 2 minutes, CashWire.com can match a borrower with a lender right away. The lender, in turn, will wire the money to their account in as little as one hour. The lenders working with CashWire.com can offer up to $1,500, which allows everyone to have access to quick cash when they need it most.
Along with using CashWire.com's payday loans to help pay for any unexpected home or auto costs, borrowers are also able to cover high heating or cooling bills, or can even have immediate cash on hand for family vacations. Having access to cash when it is truly needed is a great comfort to anyone.
By using CashWire.com for payday loans, borrowers can keep their homes, cars and families safe when an unexpected emergency arises.
About CashWire.com
CashWire.com is a lender matching service providing customers with access to fast, secure online payday loans up to $1500. With a convenient online application and accommodating payment options, borrowers get the cash they need when they need it.
###