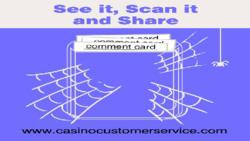 Interactive image explores five elements of casino customer service.
Boise, Idaho (PRWEB) June 27, 2013
Casino consultant Martin R. Baird has just released a new casino customer service interactive image that explores various aspects of service that can be beneficial to casinos.
"There are a variety of elements to providing outstanding casino customer service and this interactive image takes a look at five of them," said Baird, chief executive officer of CasinoCustomerService.com and Robinson & Associates, Inc., a casino consulting firm to the global gaming industry. "I invite casino executives everywhere to take a look."
To see the image, click here.
The image created at ThingLink explores the following topics.
– Comment cards vs. real-time customer feedback.
– Casino Train the Trainer.
– Casino reputation is more important than marketing.
– Service delivery gap analysis.
– New casino customer service blog.
About Robinson & Associates and CasinoCustomerService.com
Martin R. Baird is a casino consultant and chief executive officer of Robinson & Associates, Inc. For 20 years, Robinson & Associates has been dedicated to helping casinos improve their guest service so they can compete and generate future growth and profitability. A Boise, Idaho-based casino consulting firm to the global gaming industry, Robinson & Associates is the world leader in casino guest experience measurement, management and improvement. Recently, it announced Simply Share, a real-time customer feedback platform that makes it fast and easy for casino customers to share their experience directly with casinos instead of posting comments online at social media sites.
For more information, visit the company's Web site at http://casinocustomerservice.com/casino_reputation.htm or contact Lydia Baird, director of business development, at 208-991-2037 or lbaird(at)raresults(dot)com. Read about a variety of topics at Martin Baird's blog at http://casinocustomerservice.com/casino_news.htm/, including casino-related articles, casino customer service training, mystery shopping, casino reputation measurement, casino training, service gap analysis and more. Robinson & Associates is a member of the Casino Management Association and an associate member of the National Indian Gaming Association.