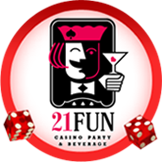 Customers can save a lot of money by having their party in the middle of the week. Same exact party, just offered Sunday through Thursday
San Francisco, CA (PRWEB) January 10, 2012
The holiday season may be over but that does not mean the partying has to end. 21 Fun Casino Party, the premier San Francisco casino rental company, is starting off the new year with additional discounts on all Sunday through Thursday parties.
"Customers can save a lot of money by having their party in the middle of the week. Same exact party, just offered Sunday through Thursday," John Scarborough of 21 Fun Casino Party said. "This offer can be compared to Las Vegas, where you can spend $300 on a Saturday night hotel room or pay $29.95 for the same exact room from Sunday through Thursday."
San Francisco's 21 Fun Casino Party offers themed casino parties and events, and with the best equipment and accessories, its parties look and feel like the real deal. Its experienced party and event planners have several packages available that can be custom tailored to meet a customer's specific needs and budget.
San Francisco's casino night from 21 Fun Casino Party includes everything from casino-quality equipment, including polished mahogany roulette wheels, poker, craps and blackjack tables, to professionally trained casino dealers. 21 Fun Casino Party can also help clients find the perfect location for the event. Based in San Francisco, it serves the North Bay, San Jose, Sacramento (the Sierra Foothills), the Central Valley and all of Southern California (including Inland Empire, Riverside, San Diego and Los Angeles)
For more information on 21 Fun Casino Party, call 415-744-4777 or view the company on the web at http://www.21fun.com.
About 21 Fun Casino Party
21 Fun Casino Party is a local and family owned business based in the San Francisco Bay Area. It provides full casino-themed party services, including casino-quality equipment, professionally trained casino dealers, location rentals, setup and breakdown. The company works closely with a network of DJs, magicians and party production companies, and it offers poker, blackjack, roulette, craps and other exciting casino games.
###