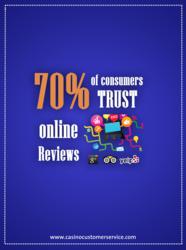 Our interactive image makes it quick and easy for busy casino executives to obtain key statistics and information on casino reputation and casino reviews.
Boise, Idaho (PRWEB) June 20, 2013
Casino reputation and how it is affected by casino reviews is explored in a new ThingLink interactive image announced today by CasinoCustomerService.com.
"If we shared that casino reputation is critical to long-term success, most casino executives would say OK and go back to the next emergency they need to deal with," said Martin R. Baird, chief executive officer of Robinson & Associates, Inc., and CasinoCustomerService.com. "In today's highly competitive casino business, it's harder than ever to get a person's attention. Casino executives are busy and getting them to take a moment to focus on a new concept is challenging.
"For example, there is amazing new research about the critical nature of casino reputation and casino reviews and Cone, Inc., has reported that 80 percent of consumers have changed a buying decision because of negative reviews. Most casino executives probably are not aware of any of that."
Knowing how busy casino marketing departments are, CasinoCustomerService.com decided to create an interactive ThingLink image that quickly conveys key statistics and other information, Baird said. Those interested simply move their mouse cursor over the icons in the image to open drop windows.
The icons explore such topics as:
– Casino reputation dictates where customers go to play and Google has an important role.
– Casino reputation correlates to where a casino ranks in Google searches.
– A good casino reputation can't be bought.
– Casino reviews by social media mean more to customers than a fancy website.
"It's reportedly a Chinese proverb that a picture is worth a thousand words," Baird said. "With our casino reputation ThingLink, we are able to multiply the value of a simple image with key facts and information. We are always looking for ways we can effectively and efficiently communicate information and ideas with casino executives, and if a picture makes that easier, we are all for it.
"We also have an infographic for casino reputation as well as a couple of videos on the subject, so we can reach people in a variety of ways. Who knows, maybe we'll use Twitter. Maybe we'll even try Vine to get our six-second message out about important casino business issues."
Experienced marketers know that consumers typically need to be exposed to a message seven times before they remember seeing it, Baird said. "This ThingLink that focuses on casino reviews and reputation is one way to reach people for a moment and help them learn about how it's impacting their casino today and moving forward," he said.
A bout Robinson & Associates and CasinoCustomerService.com
Martin R. Baird is a casino consultant and chief executive officer of Robinson & Associates, Inc., and CasinoCustomerService.com. For 20 years, Robinson & Associates has been dedicated to helping casinos improve their guest service so they can compete and generate future growth and profitability. A Boise, Idaho-based consulting firm to the global gaming industry, Robinson & Associates is the world leader in casino guest experience measurement, management and improvement. Recently, it announced Simply Share, a real-time customer feedback platform that makes it fast and easy for casino customers to share their experience directly with casinos instead of posting comments online at social media sites.
For more information, visit the company's Web site at http://casinocustomerservice.com/train_the_trainer.htm or contact Lydia Baird, director of business development, at 208-991-2037 or lbaird(at)raresults(dot)com. Read about a variety of topics at Martin Baird's blog at http://casinocustomerservice.com/casino_news.htm/, including casino-related articles, casino customer service training, mystery shopping tips, casino reputation measurement and improvement, service gap analysis and more. Robinson & Associates is a member of the Casino Management Association and an associate member of the National Indian Gaming Association.
###