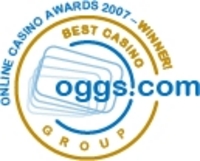 An altogether different play compared to many in the market, but for sheer 'wow factor', this slot broke the mould in 2007
London, UK (PRWEB) January 8, 2008
Oggs.com, the online casino reviews site, have today announced the winners of its much anticipated annual Online Casino Awards 2007, covering casinos, operators and games from all the major regions: 'Best Casino', 'Best New Casino', 'Best Group' and 'Best New Slot Game'.
Best US Casino 2007
The winner of 'Best US Casino' is iNetBet, using Real Time Gaming (RTG) software, which managed to strengthen their reputation and adapt successfully in an uncertain and changing business environment.
Competition in this category was dramatically affected by the 'Unlawful Internet Gambling Enforcement Act' of October 2006. A number of significant casinos withdrew from the US market completely given the uncertainty over handling banking for US players. While stopping short of outlawing online casino gambling, the Act had the perverse effect of enabling weaker operations back into a market in which previously it had been harder to compete against the well-funded and properly licensed casinos. Some casinos refused players from certain states, others introduced tighter banking controls.
In this difficult environment, iNetBet clearly demonstrated that a reputable casino operator, with best of class customer service will distinguish itself from the rest and come out on top.
Runner-up in this category is Nostalgia Casino, using Microgaming gaming software. Nostalgia is a well-established casino, part of the Casino Action group, and is recognised for its exceptional promotions and instant Neteller withdrawal facility which features an incremental limits scale.
Honorary mentions go to Club USA and Intertops casinos who have worked hard at providing the US market with good service and acceptable banking alternatives.
Best UK Casino 2007
With the UK's much more realistic approach to online gambling, the 'Best UK Casino' award was a much easier choice based on customer service and games. This year's award goes to Virgin Casino. Relatively young in online gaming terms, Virgin Casino keeps things simple, providing fast cash outs, an expanding choice of games and a brand that is a high street name, at its backend is the Wagerworks software.
Praise was also given to the runner-up, Ladbrokes, which uses the excellent Microgaming interface with Slot Tournaments and Live Dealer plug-ins.
Promotions were found to be less frequent at Virgin Casino and Ladbrokes, but with fast cash outs (for Ladbrokes this includes a PayPal facility) and good service records, the judges felt these two operations were ahead of the competition.
Best EU Casino 2007
The judging panel noted that in Europe, while most casinos offer multi-language options and currencies, two casinos in particular are popular choices with few complaints levelled against them. Bet365 Casino, using Playtech gaming software, just bested Intercasino, using Cryptologic software, to win the 'Best EU Casino' award. Customer service and its ability to provide fast and efficient support in a large number of European languages gave Bet365 the edge.
Both casinos were found to have fast cash out policies, unlike some Playtech-based operators where payment may take up to 5 days to pay. The choice of games is greater at Intercasino, especially as regards Slot games, although the panel preferred the look and feel of the Playtech interface at Bet365.
Best Japanese Casino 2007
This year's award for 'Best Japanese Casino' goes to Gaming Club, with iBig a close second. Both online casinos use Microgaming gaming and both offer regular attractive promotions. Tipping the balance in its favour, Gaming Club, established longer, has earned over time a reputation as a highly trusted site, an important consideration in the Asian gaming market.
Operated by Belle Rock Entertainment and online since 1998, Gaming Club has over 300 games, Japanese language software and support.
Best Casino Group 2007
Choosing the winner in this category was relatively clear-cut and goes to The Casino Action Group of Casinos.
The judges felt their group-wide loyalty and rewards program was an excellent extension to the playing experience and delivered improved levels of customer service: players can earn and redeem loyalty awards in any of the six casinos in the group irrespective of where they were earned. The whole Casino Action concept works well and is professionally handled, with a login for each player to manage their account, points, awards and promotions. In the judges' opinion, Casino Action set the benchmark for grouped operations in 2007. The other major reason for the accolade was the instant cash outs to Neteller they offer at all their casinos, which is a highly sought after option for players.
Runner up was The Club World Casinos Group comprising Club USA, Club Asia and Club UK casinos. The panel singled out Club World for its customer service, volume of bonus promotions and 12-24hour cash out turnaround. The Club World Group has built a well-deserved respected reputation in the player community, most notably among US players.
Best New Casino 2007
The award for 'Best New Casino' goes to Globet Casino, recently launched on the Microgaming Viper platform.
Nonetheless Globet is far from being new to online gaming. Already an established brand, Globet is primarily known for its Sportsbook operation. Using its own banking system means casino players enjoy quick cash outs and the flexibility to switch funds quickly between accounts, bypassing the Microgaming 'reverse pending' delay. Globet offers over 300 games, and in spite of a relatively low key launch, is gaining popularity quickly.
Runner up in this category goes to a recently relauched casino: Playboy. Playboy was previously operated by Ladbrokes on the Microgaming platform. Now associated with Partnerlogic and using Cryptologic gaming software, Playboy offers players an increased choice of games running on a reliable infrastructure, good customer support, regular exclusive promotions and quick cash outs using the Ecash system.
Best New Slot Game 2007
Choosing a winner in this highly contested category was a more difficult decision for the judges. In the end, Hitman, a new Microgaming slot game, finally won over the panel to scoop the award for 'Best New Slot Game'.
Hitman has everything a player wants in a slot game: great graphics and sound, good game play, plus three different bonus games each including free spin options. It is a 'high variance' slot game, with longer mean streaks and occasional monster payouts. "An altogether different play compared to many in the market, but for sheer 'wow factor', this slot broke the mould in 2007", said one of the judges.
Hitman is based on the popular PC/Xbox/Sony PS FPS game from Eidos. It carries the game's licensed branding and is available at all Microgaming-based casinos. In December 2007 a 'Flash' version of the game was released.
Other new slot games that received honourable mentions include: Green Light from RTG, Dragon's Loot from Microgaming and a new version of the 'The Hulk' from Cryptologic.
In spite of a difficult year for the gaming industry, online casinos, operators and games developers continue to improve: better quality and customer service, enhanced player experience, greater range of games and performance, more flexible payment methods. Oggs.com congratulates all the winners and runners up of the Online Casino Awards 2007 for significantly raising the standards as they have and looks forward to 2008 when Oggs.com will continue to report developments in the industry and to publish objective independent reviews players can trust.
For more information about the winners and runners-up of the Online Casino Awards 2007, Oggs.com, or comments related to this article please contact info @ highviewmedia.co.uk
###